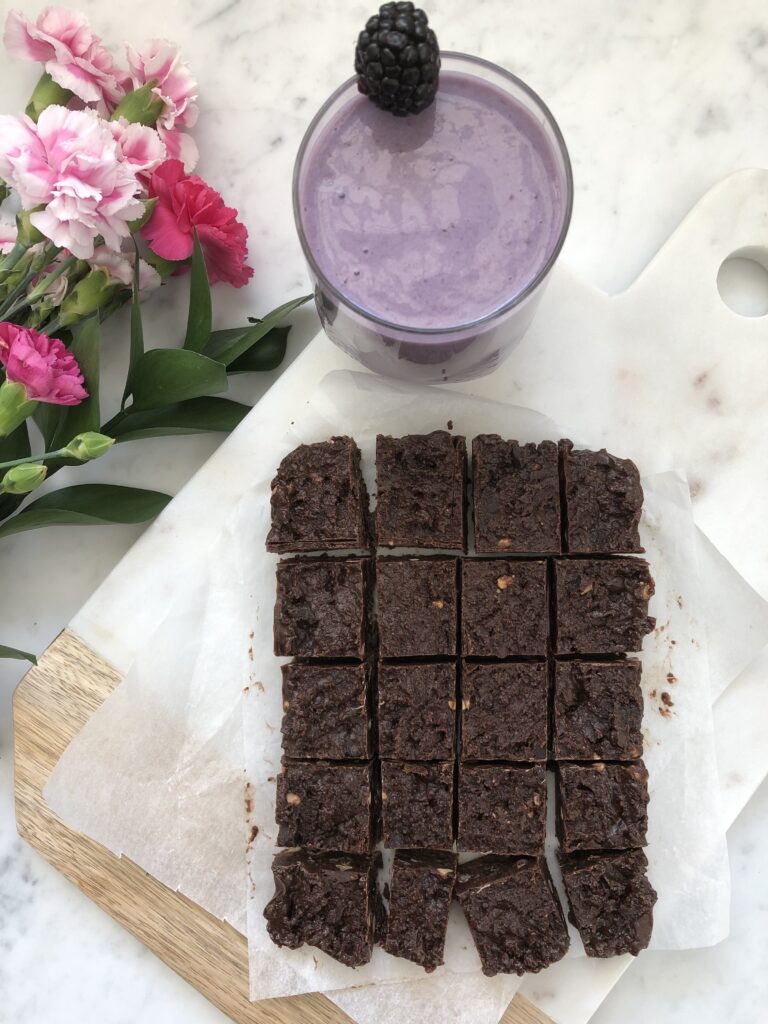 My first taste of fudge was when I moved to North Carolina to attend boarding school, in my sophomore year of high school. It was then that I fell in love with this North American dessert, at first bite!
I have a major sweet tooth, and it's satisfied by super sweet North American and Middle Eastern desserts like: Texas Pecan Fudge Pie a la mode (specifically from House of Pies in Houston), pralines, fudge, cookie dough, Hello Dollies, knafeh, baklava, nammoura, and super sweet meghli. The last four are Middle Eastern and I make most of them at home when I can. Look for the meghli recipe in the next few weeks.
But…I digress. These days, fudge comes in many forms and is used to describe many cooked as well as no-bake desserts. There are variations that include melting chocolate and adding a can of condensed milk. There are variations that include tahini and coconut oil, like this recipe that I have shared in the past. And, there are recipes that are made with dates as a base, like the one I'm sharing today.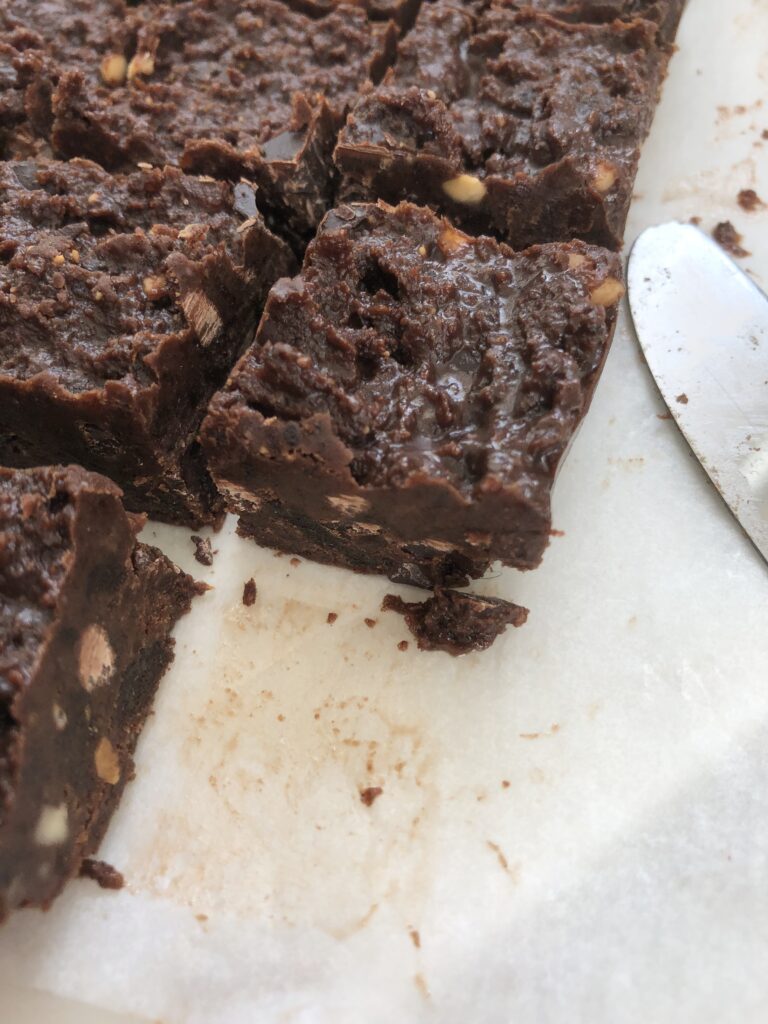 This recipe specifically calls for pressed dates. I'm lucky to have a couple of Middle Eastern stores in Toronto that sell pressed dates, namely Adonis and Ararat. The reason you can find pressed dates there is that they are the main ingredient for making maamoul. Maamoul is a semolina based cookie with dates (or pistachios or walnuts) baked inside, almost like a Fig Newton cookie. Maamoul is traditionally made for holidays like Easter and Eid.
If you can find pressed dates, grab a few packs because they last for a while, and they are a life saver. Using pressed dates means you don't have to take out your food processor, making clean-up a lot easier.
I have been perfecting this fudge recipe for a few years now, and it's my favorite no-bake, no-cook healthy snack. My daughter also loves this fudge as a grab-and-go snack before a workout, or as a quick after-school snack. The recipe is forgiving, gluten-free, and vegan. You don't have to adhere to the exact measurements (a little more or fewer dates, or peanut butter, won't make a difference). And, you can use a variety of mix-ins.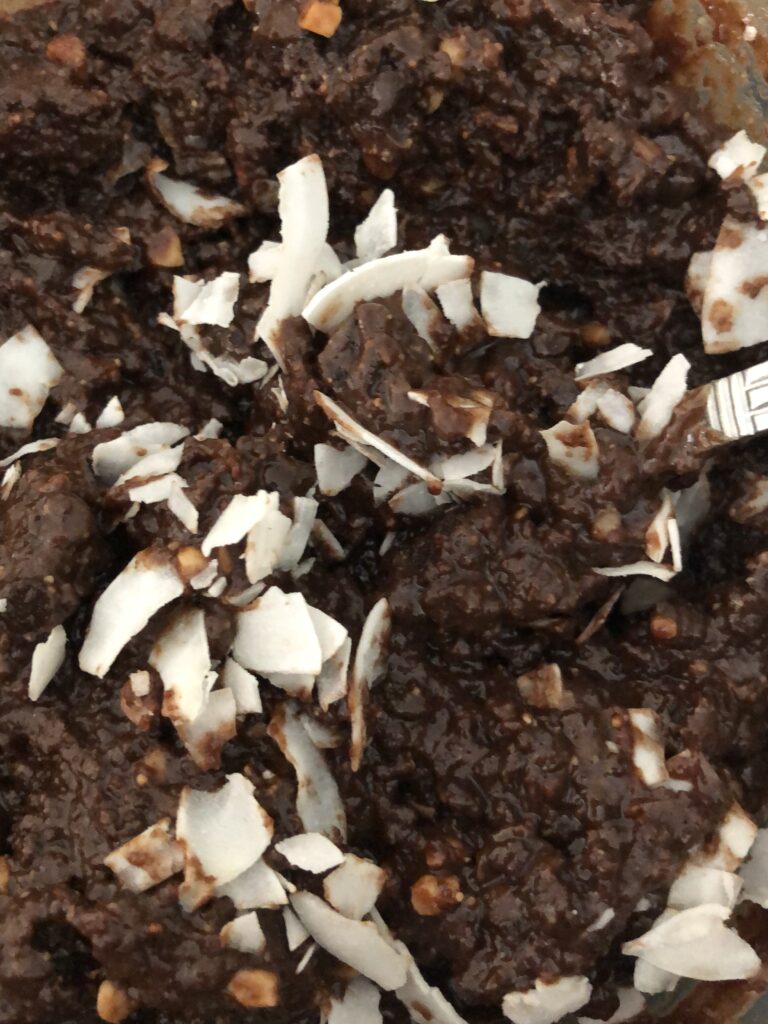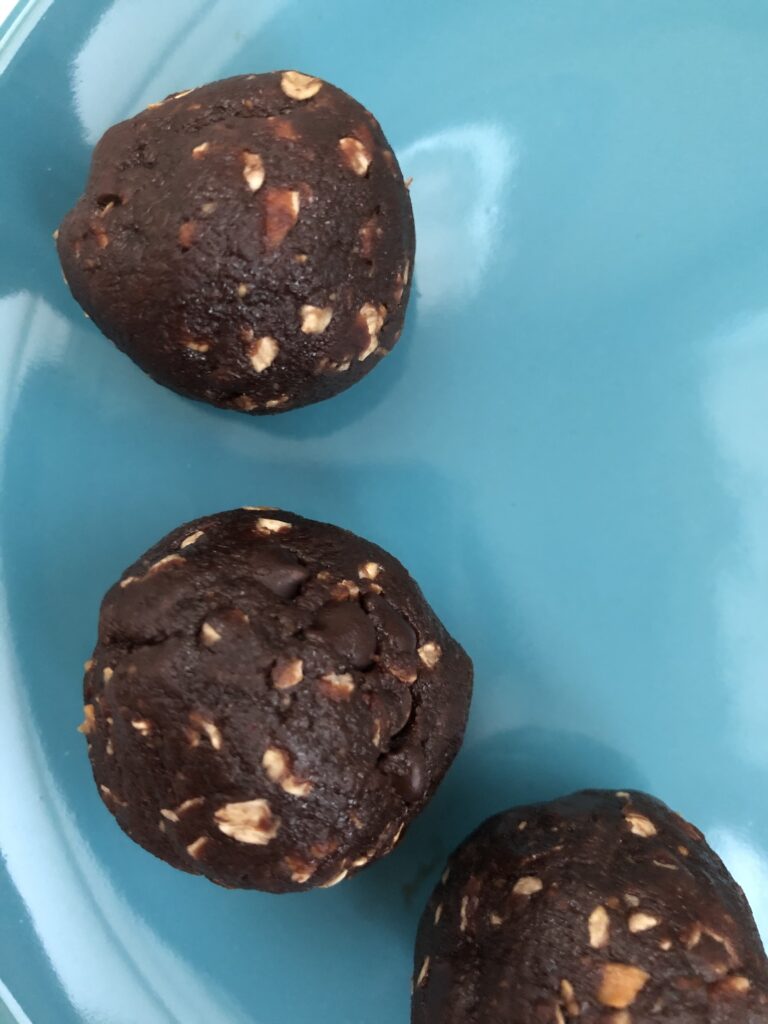 The key to this fudge is the coconut oil, because this is what helps the fudge set in the freezer and not be rock hard. I've played around with different quantities, but 3 tablespoons seems to be the magic number.
Here's my recipe!
Vegan Chocolate Fudge – Made With Dates!
Ingredients:
1 c pressed pitted dates
1/2 c all natural peanut butter (smooth or crunchy)
2 T tahini
3 T maple syrup
3 T coconut oil, melted
1/4 c cocoa powder
1 tsp instant coffee crystals
1/4 c vegan chocolate chips
1/4 c gluten-free quick oats
1/4 c coconut flakes
Method:
Combine the dates, peanut butter, tahini, maple syrup, and coconut oil in a bowl until well-combined. I use a heavy fork and do it by hand, but you can use a food processor.
Add the cocoa and coffee crystals and mix well.
Add the chocolate chips, oats, and coconut flakes and mix until well-combined and smooth.
Spread in a 9 by 5 inch loaf pan or in a 7 by 5 inch Pyrex dish, lined with parchment paper.
Freeze for a few hours.
Lift the fudge out by the parchment paper and cut into squares with a sharp knife.
Store in the freezer.
Variations:
If you can't find pressed dates, use 1 – 1 1/4 cups pitted dates and use a food processor to make this recipe.
Experiment with various mix-ins like M&Ms, pumpkin seeds, hemp hearts, flax seeds, chia seeds.
Use a cookie scoop and make this fudge into energy balls. Roll in cocoa powder or coconut or oatmeal.
Flatten energy balls and score with a fork to make fudge 'cookies'.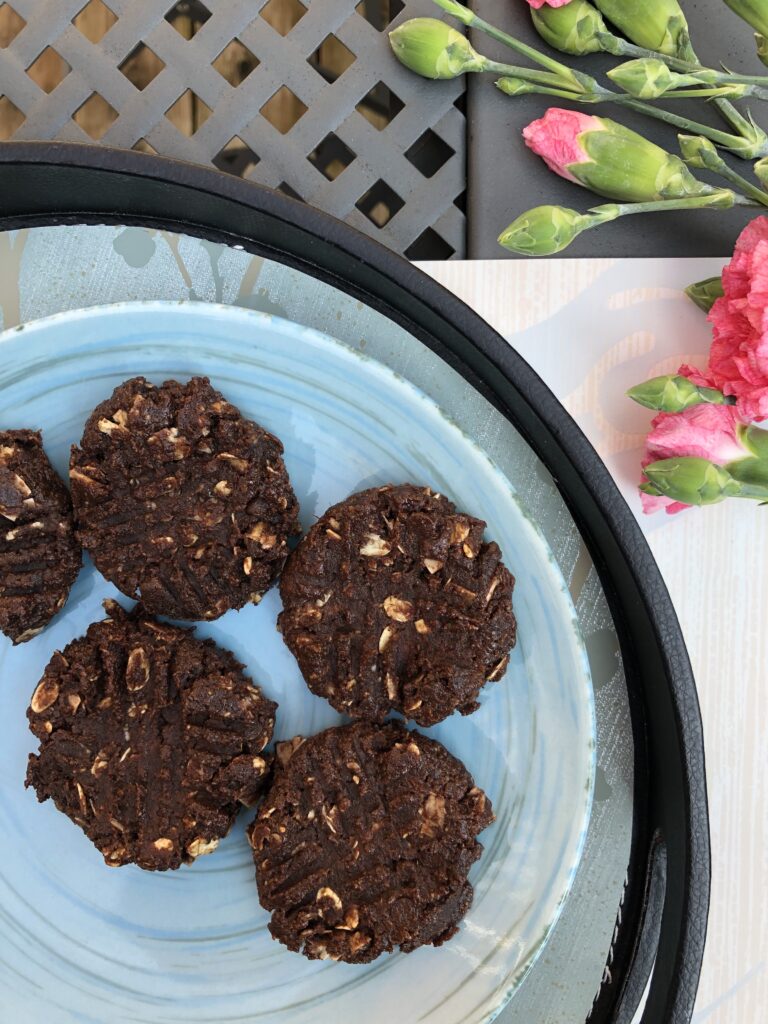 Do you have a favorite no-bake fudge? I'd love to hear what you make!
Enjoy!

Email This Post