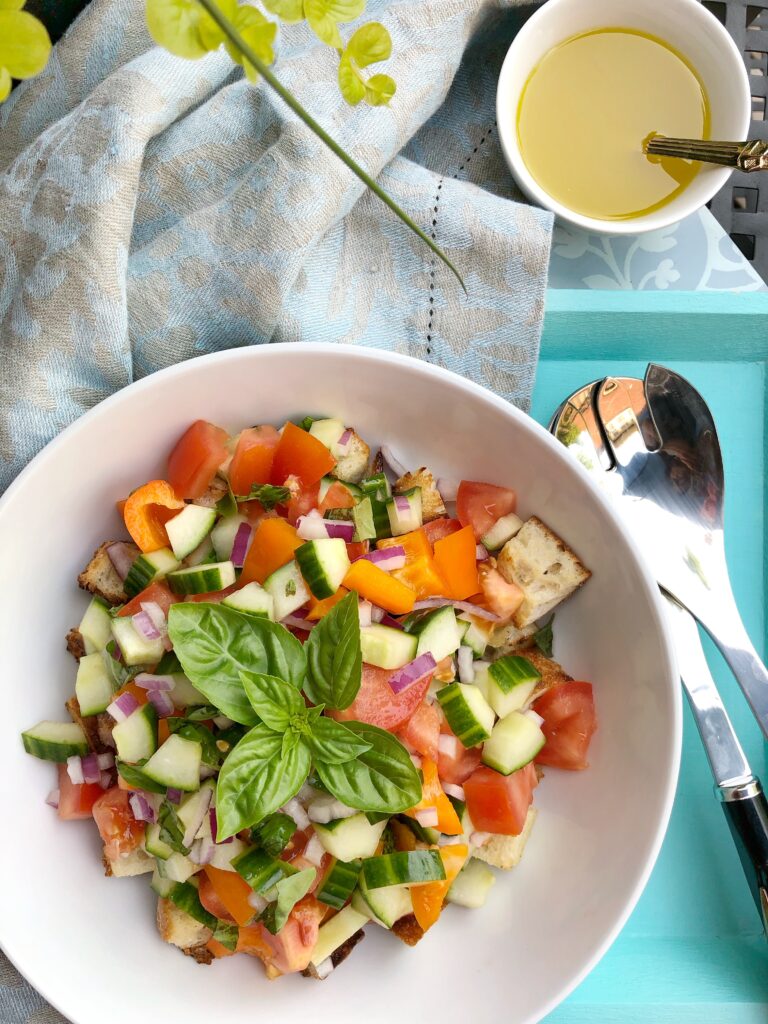 Have you ever made panzanella, a tomato salad with croutons? Panzanella (a classic Tuscan salad from Italy) is one of my favorite salads because it's made with fresh ingredients and includes bread built into it in the form of homemade croutons. Classic panzanella includes tomatoes, stale bread, olive oil, and vinegar.
Panzanella is definitely a salad that tastes best with the freshest ingredients, which means that this salad is a go-to in the late summer when tomatoes are in season. Having said that, I still like to make it all year and I like to make it when I have leftover baguette bread that has started to harden. Nothing tastes better than homemade croutons made with the best olive oil you can find.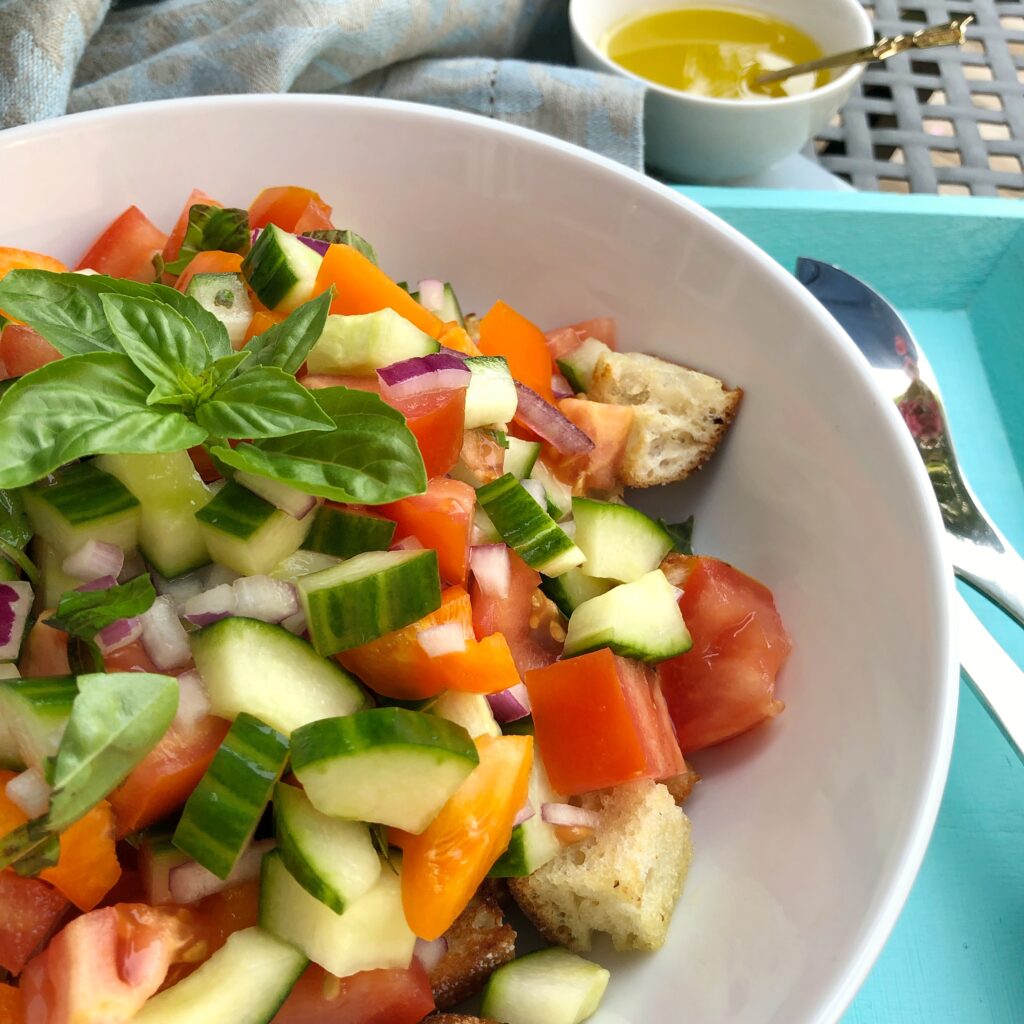 I also like panzanella because you can add chick peas or other beans, making it a meal in and of itself due to the added protein. You can also add feta or goat cheese or any other hard cheese like halloum cheese cut into cubes. In terms of herbs, feel free to use the classic basil or anything else you have on hand like coriander, parsley, mint, or thyme. BTW, if you like salads, check out my recipes for Pomegranate Salsa Salad and Avocado Greek Salad.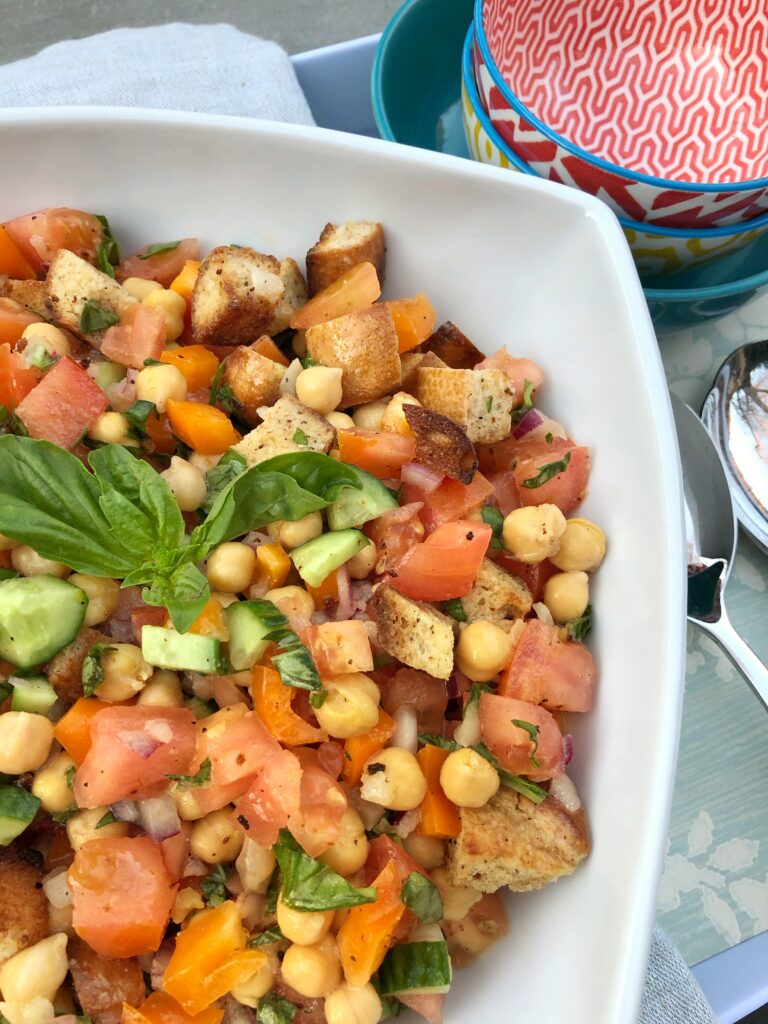 Here's the recipe for my Panzanella Salad:
For the Salad
1/2 of a day old or stale baguette, cut into cubes (2 -3 cups)
2 T olive oil
1 tsp kosher salt
1/4 tsp black pepper
1 large beefsteak tomato or 2 smaller ones
1/2 hothouse cucumber, unpeeled and seeded
1/4 c red onions, finely chopped
1/2 green or sweet pepper, diced
bunch of basil, torn (use as much as you would like, the more the better)
For the Vinaigrette:
3 T extra virgin olive oil
1 1/2 T white wine vinegar
1 tsp dijon mustard
salt and pepper to taste
Method:
Saute the bread cubes in the olive oil with the salt and pepper, over medium heat, until toasted and dark, about 7-10 minutes. Let cool.
Make the vinaigrette.
Combine all of the vegetables in a serving bowl, add the vinaigrette, then add the croutons.  Serve warm or let sit in the fridge for a few hours and add the croutons just before serving.
Variations: add 1 1/2 c of canned chick peas or 1 c of diced feta or halloum cheese
Have you made panzanella? What ingredient variations do you like?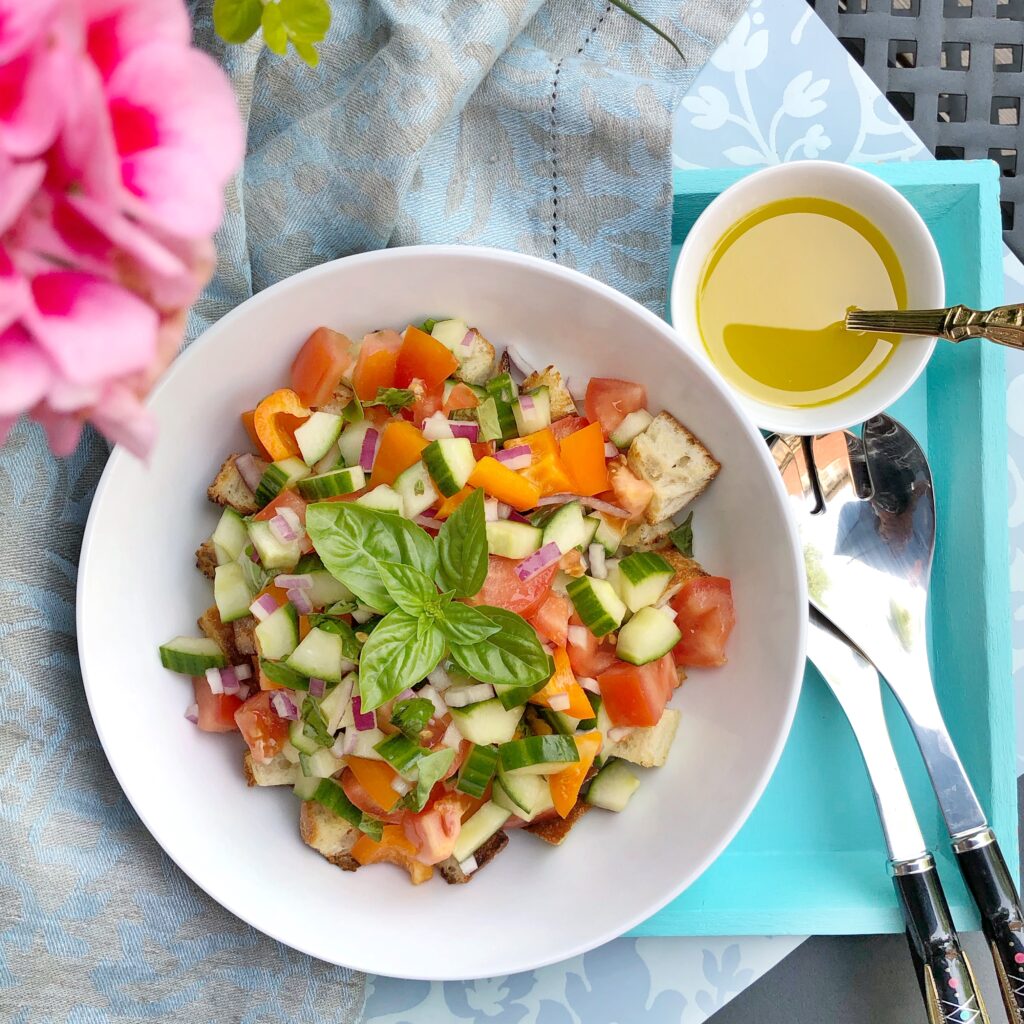 Enjoy!

Email This Post