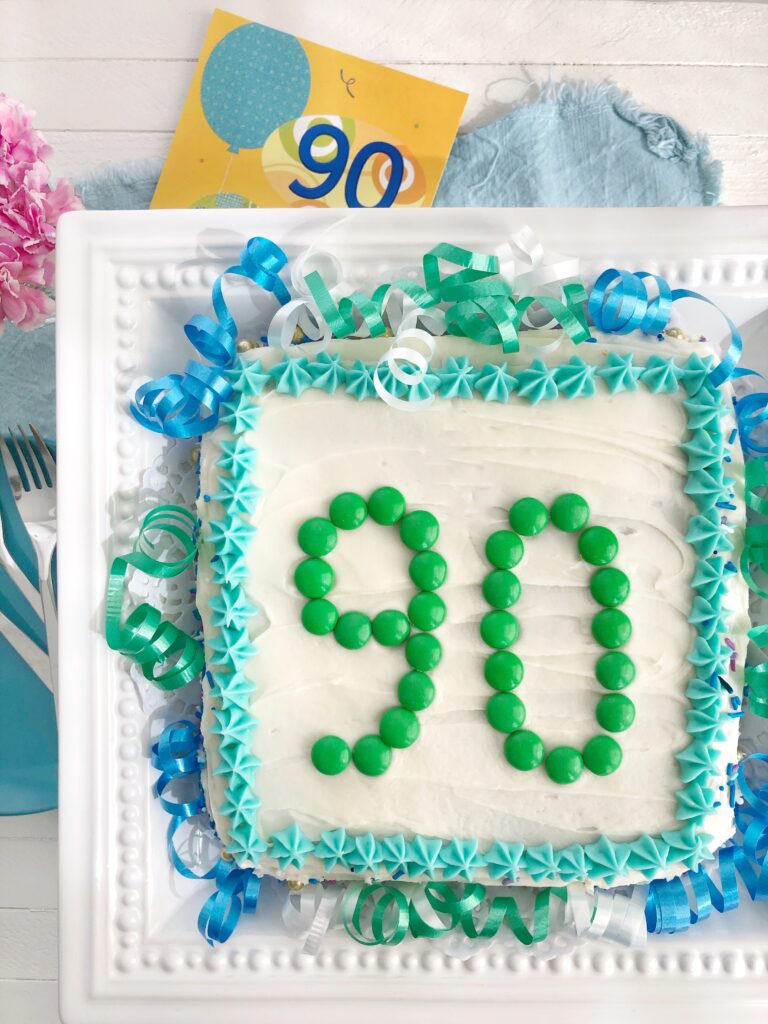 This month my dad turned 90! What a milestone birthday. With Covid going on, I couldn't make my annual March trip to visit and celebrate with my family in Lebanon. But, I did get to make this brownie cake.
I'm calling it a brownie cake only because I decorated it like a cake and it photographed like a cake for my Instagram feed. I used the brownie recipe from the Moosewood Restaurant Cooks At Home cookbook. It was my first time using it, and it is absolutely delicious. The brownies had a nice crusty surface and were incredibly moist and fudge-like on the inside.
I made 2 changes to the Moosewood Restaurant recipe: I used 7 tablespoons of pasteurized egg whites instead of the 2 eggs they called for, and I added 1/2 a cup of mini chocolate chips. Using mini chocolate chips ensures that the chocolate chips don't sink to the bottom of the batter.
For the icing, I used a cream cheese frosting because I wanted to elevate the icing on the brownies, and I wanted to have a white background for the decorated cake. I colored some of the icing a teal blue and I used green M&Ms to make the number 90. To give the cake a festive look, I added sprinkles on the side of the brownie, and curled ribbons around the cake. It's that simple.
Here's the recipe for the brownies and the cream cheese frosting. The frosting is enough to ice two brownie pans, so if you feel  like making half of the frosting recipe, go ahead. I have not made that small of a batch of frosting, but you decide.
Tips:
Line and spray an 8 by 8 inch pan with 2 rectangular pieces of parchment paper, for easy removal
Chop chocolate pieces into smaller pieces, if you don't have mini chips on hand. I've used the Hershey's chocolate chunks, chopped up, and they make for a rich, gooey brownie
Consider various toppings, like cut up Reese's peanut butter cups or Cadbury Mini Eggs that you crush into smaller pieces in a plastic bag
Practice on a dish or the counter, if you're going to decorate using chocolate pieces to make a number. Some numbers are harder to make than others!!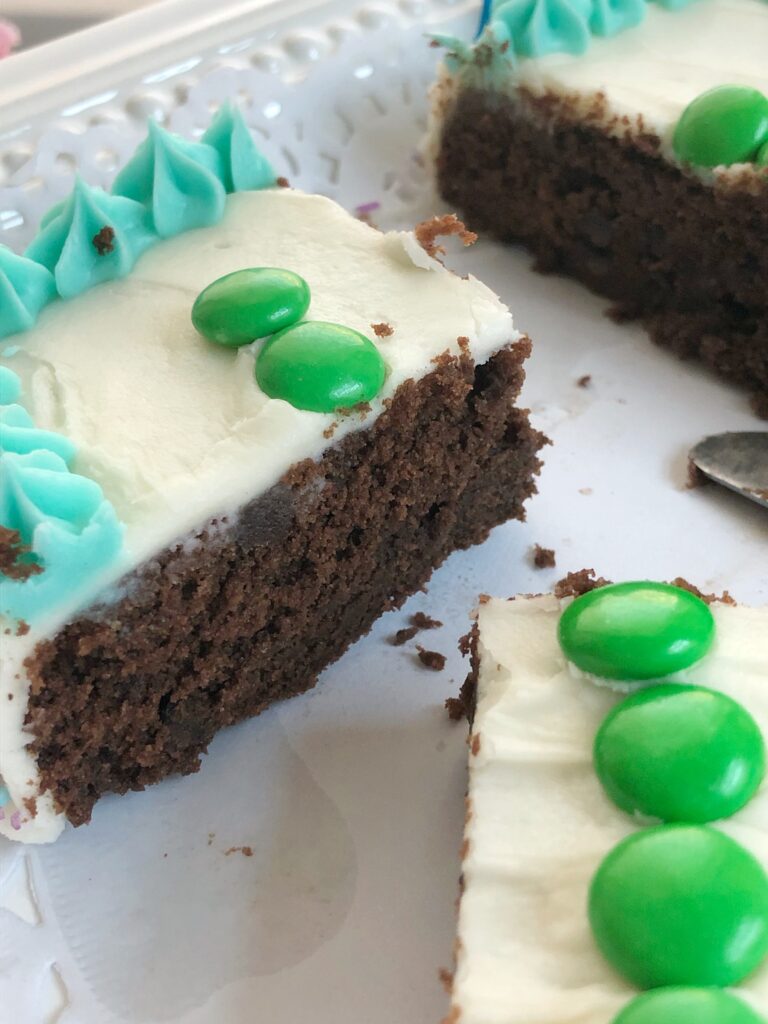 Extra-Chocolatey Fudge Brownies
(adapted from the Moosewood Restaurant Cooks At Home Cookbook)
Ingredients
1/2 c butter
3 oz of unsweetened chocolate squares
1 cup packed brown sugar
1/2 tsp vanilla
2 eggs or 7 Tablespoons of pasteurized egg whites
1/2 c all-purpose flour
1/2 c mini chocolate chips
Method:
Preheat oven to 350 degrees
Line an 8 by 8 inch square pan with 2 rectangular pieces of parchment paper, so that each side of the pan is covered
Chop up the 3 chocolate squares and chop up the butter into 1 Tablespoon pieces
Melt the chocolate and butter over a LOW simmering double boiler until just combined and smooth
Remove from heat and add sugar and vanilla. Stir well
Add eggs; stir in flour
Spread into pan and bake for 22-25 minutes, depending on how gooey you like your brownies. Brownies are done when the top is not wet or glistening
Cool and remove from pan using the parchment paper overhang
Cream Cheese Frosting
Ingredients:
1/4 c butter, softened
4 oz cream cheese, softened
1/2 tsp vanilla
1 T cream
2 to 2 1/2 c icing sugar
Food coloring
Cream butter, cream cheese, and vanilla until smooth
Add the cream and icing sugar, one cup at a time, and beat well after each cup
Keep adding icing sugar until you get the consistency you desire, either for spreading or for piping

Fudge Brownies
Enjoy!

Email This Post