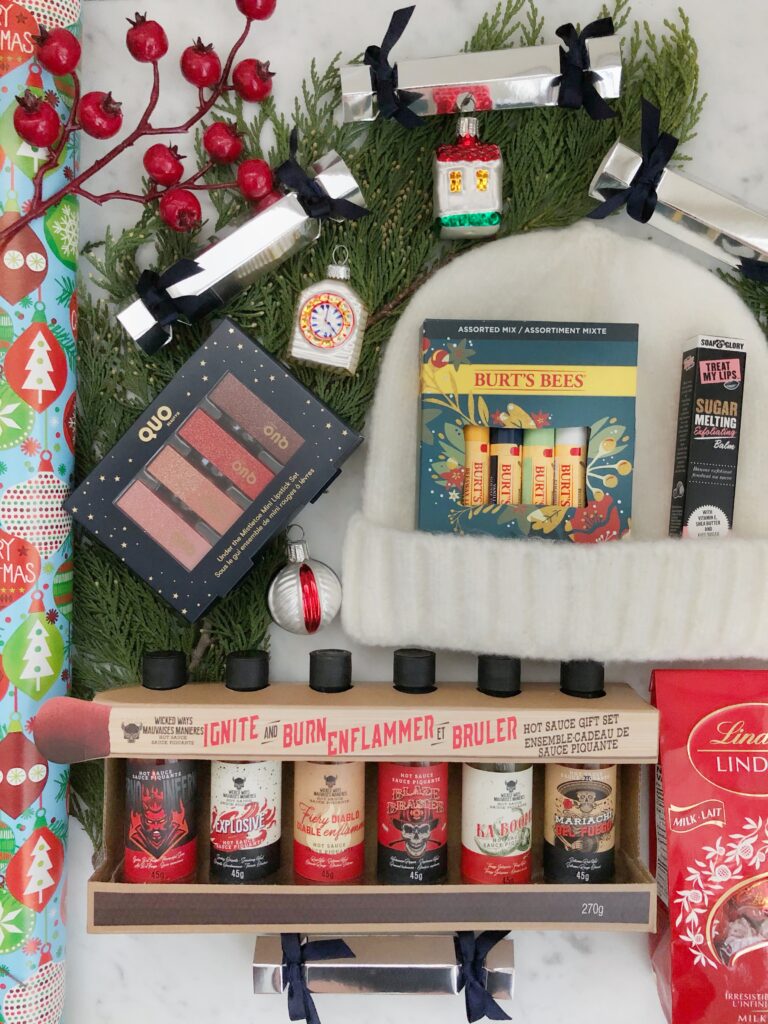 As my youngest daughter always says, we all know that the holidays are coming, but not all of us are great at planning ahead for them!
This year, the holidays are different due to the pandemic. It's just not the same, thinking about a virtual Christmas Eve mass and a virtual gift opening with local and distant family members.
Shopping for gifts isn't the same, either. Some of us are in lockdown and are shopping virtually or doing curb-side pickup. Some of us are ordering online. And, some of us just want to be able to see and touch what we're getting. That's why I'm writing this blog post with places that are one-stop shopping experiences, and that are likely open for in-person shopping in your area.
For me, drugstores, specialty food stores, and hardware stores are the perfect places to find something for almost everyone on your list. This way, you can minimize outings and maximize your time.
During lockdowns, essential service stores like drugstores, grocery stores, restaurants, specialty food stores, and hardware stores are open. You can shop in person, order ahead of time, or pick up curb-side.
Here are my top recommendations and ideas for the best one-stop, generally in-person stores, so you can ace you holiday shopping. The Gift Guides are meant to give you ideas. Some items that I chose to include in the guide had sold out by the time I came to post this!! That's why you should use this guide for inspiration. You can click on the hyperlinks below each photo where you will be taken to the items and store websites.
Drugstores
For me, Shoppers Drug Mart is one of the places that I visit at least twice a week and it's the perfect one-stop shop for holiday gifting.
Shoppers carries cosmetics and seasonal items. Their Christmas offerings are wide-ranging from beauty kits, to holiday decor and food, to self-care items like robes, blankets, candles, etc. They carry electronics as well as  gift cards to a wide variety of stores. There's something for everyone on your list at Shoppers Drug Mart **.
Here are some gift set suggestions that you can put together:
A pamper kit that includes: an assortment of hot chocolate with a book/selection of magazines, warm blanket or robe, slippers, and a candle
A skin care lover's gift that includes: a skin care kit with a range of products by brand and scent
A beauty lover's dream gift: a makeup kit and a lip balm kit with a Visa gift card so the recipient can add something of their choosing
A hostess/foodie gift that includes: holiday serving dishes with crackers, a box of chocolates or chocolate covered candy/nuts, cookies, etc
A unique foodie gift that includes: a hot sauce collection, and holiday themed candy or chocolate
All items in the guide below are from Shoppers Drug Mart.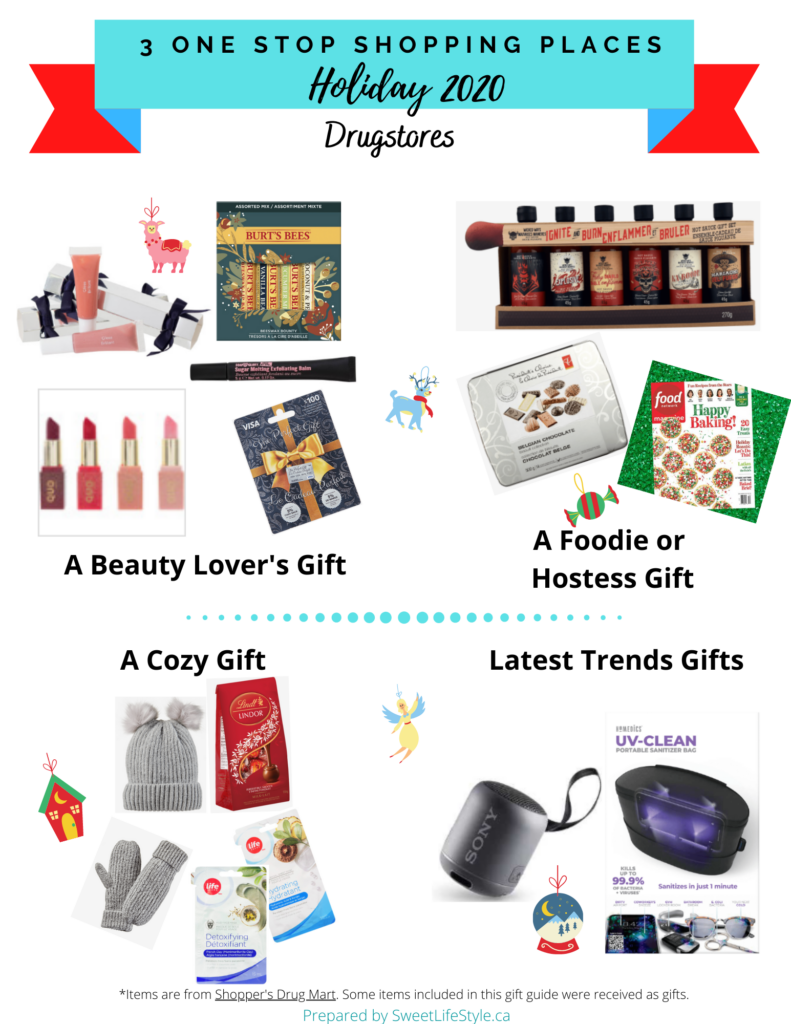 Linked items: Burt's Bees Beeswax Bounty Assorted Mix, Quo Beauty Under the Mistletoe Mini Lipstick Kit, Quo Beauty Cosmetic Crackers, Life Brand Sleep & Clay Facial Masks, PC Chocolates, Modern Gourmet Ignite and Burn Hot Sauce, Joe Fresh Beanies & Gloves, Sony SRS XB12 Wireless Bluetooth Speaker,  Ho-Medics UV Clean Bag Sanitizer,  … with lots of other items found in the online Shoppers Drug Mart Gift Guide.
Specialty Food Stores
Specialty food stores are a destination for us during this pandemic! Weekend outings for my husband and I include visits to food stores. They're not always fancy stores, just somewhere to pick up something a little special. Each neighborhood has its local shops that would love our business this holiday season.
It's pretty easy to find something for everyone at a food store. Think of themed gift baskets, unique chocolate gifts, kid-specific gifts, floral arrangements, and gifts the whole family can enjoy. Here are a few of my favorite gift ideas from some local Toronto specialty food stores, with links below. Note that some of these items are very popular and sell out quickly!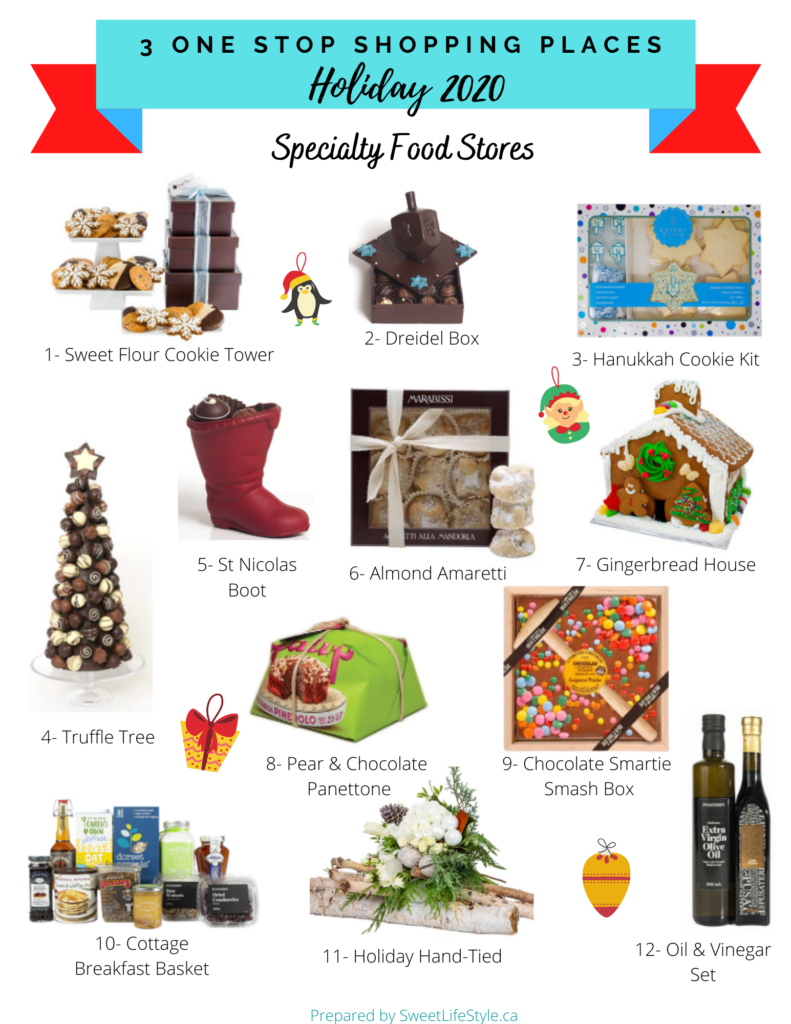 Linked Items: 1- Sweet Flour Cookie Tower, 2- Chocolate Dreidel Box, 3- Hanukkah Cookie Kit, 4- Truffle Tree, 5- St Nicolas Boot, 6- Almond Amaretti, 7- Gingerbread House, 8- Pear & Chocolate Panettone, 9- Chocolate Smartie Smash Box, 10- Cottage Breakfast Basket, 11- Holiday Hand-Tied, 12- Oil & Vinegar Set
Hardware Stores
I love hardware stores! I'm always surprised by the range of items they carry, especially seasonal and on-trend merchandise. You can hit the appliance section for the adults on your list and the toy/game department for the kids on your list. There are a ton of options in between, like new gadgets, fresh Christmas decor, home decor, candy, and stocking stuffers.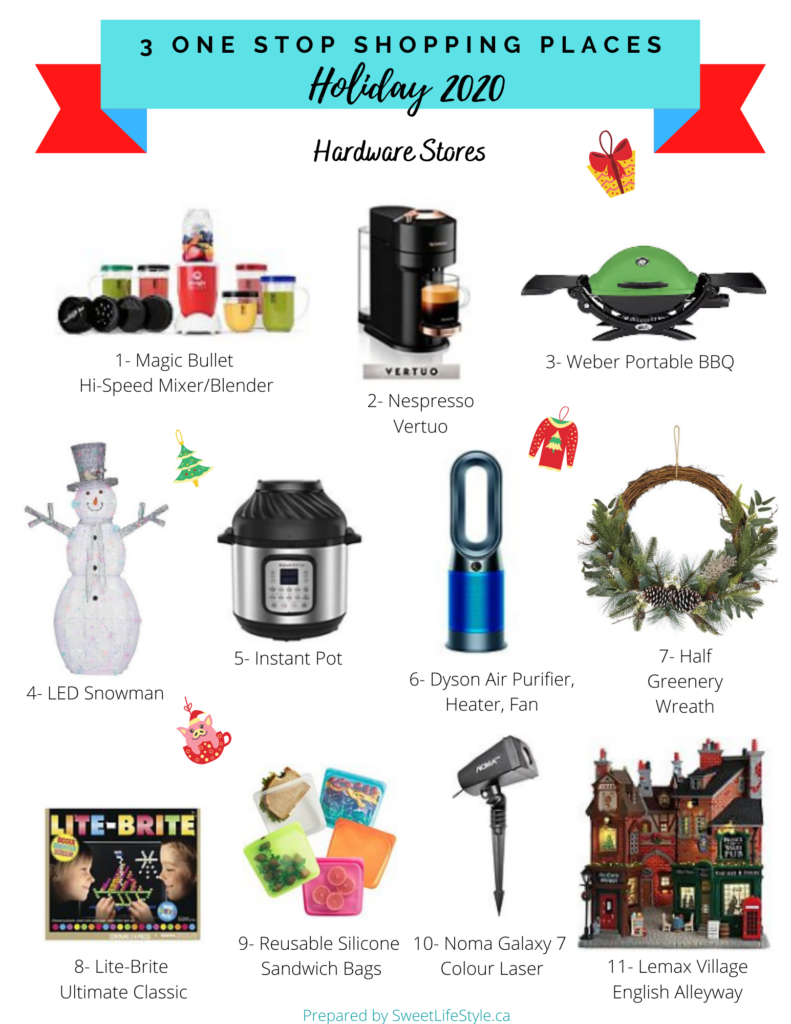 Linked Items: 1- Magic Bullet Hi-Speed Mixer/Blender, 2- Nespresso Vertuo, 3-Weber Portable BBQ, 4- LED Snowman, 5- Instant Pot, 6- Dyson Air Purifier, Heater, Fan, 7- Half Greenery Wreath, 8- Lite Brite Ultimate Classic, 9- Reusable Silicone Sandwich Bags, 10- Noma Galaxy 7 Colour Laser For Outdoors, 11- Lemax Village English Alleyway
Some other one-stop options during Covid restrictions:
grocery stores where you can pick up fresh cheese, bread, crackers, dips, and fruit that you can gift someone. You can consider the floral department of a grocery store as well for plants and other holiday-themed ideas
coffee shops where you can pick up gift cards, holiday-themed tumblers and ornaments, as well as coffee
liquor stores where you can find exclusive products just for the holidays
bakeries where you can pick up an assortment of freshly made desserts and breads
your favorite restaurants where you can pick up holiday meals, as well as gift cards
What about you? Do you have any favorite one-stop shops where you can check everyone off of your gift list?
Happy Holidays!
** I have received some promotional items from Shoppers Drug Mart;  inclusions of and opinions on items are entirely my own.

Email This Post