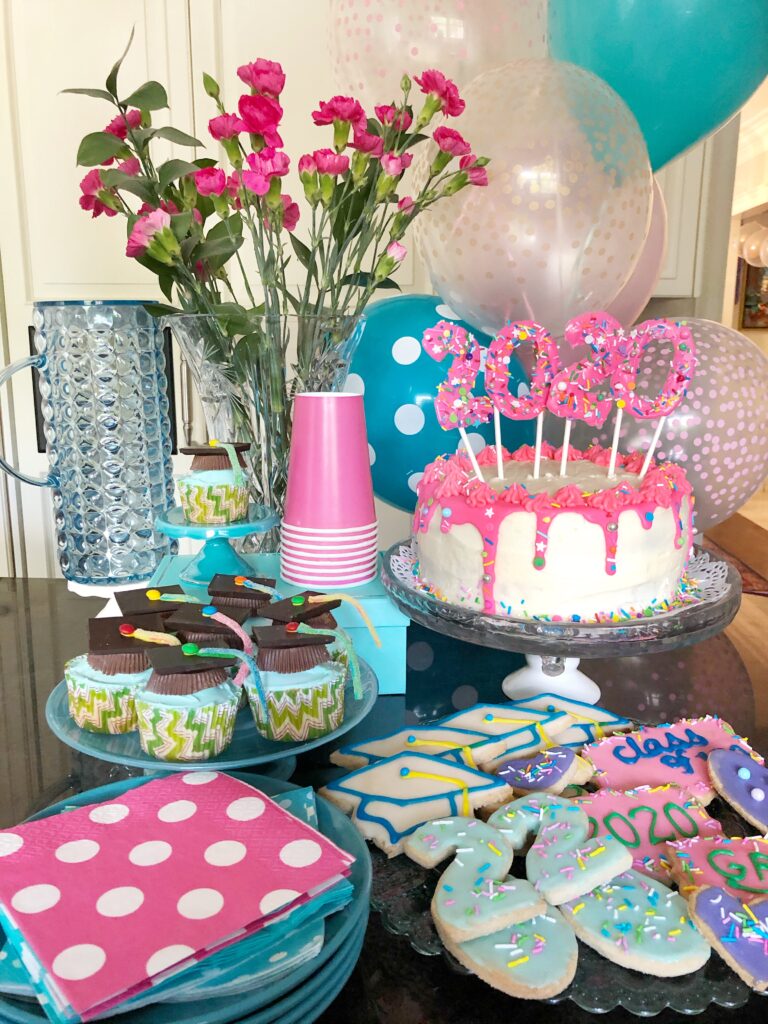 During the Covid-19 pandemic, it's been bittersweet celebrating my daughter's graduation from high school, but we've done our best to celebrate in many ways, including making as many sweet treats as possible!
We love dessert in our family and, yes, we understand the need to balance healthy food with yummy treats. But, what I"m sharing today is purely sugar based! The best part about making these celebratory desserts was searching for some of the ideas, choosing a theme (pink and blue), and decorating the house.
We received a lawn banner from the school and bought and received balloons as gifts. We decorated inside with balloons, garland, and streamers on archways in the house. And, one night I spent quite a bit of time going through old photos of the first day of school, group school photos, and other fun school and family moments. I put these on poster boards in the hallway and put up a long 'congratulations' banner underneath the boards. She absolutely loved this idea and the photos and boards are still up!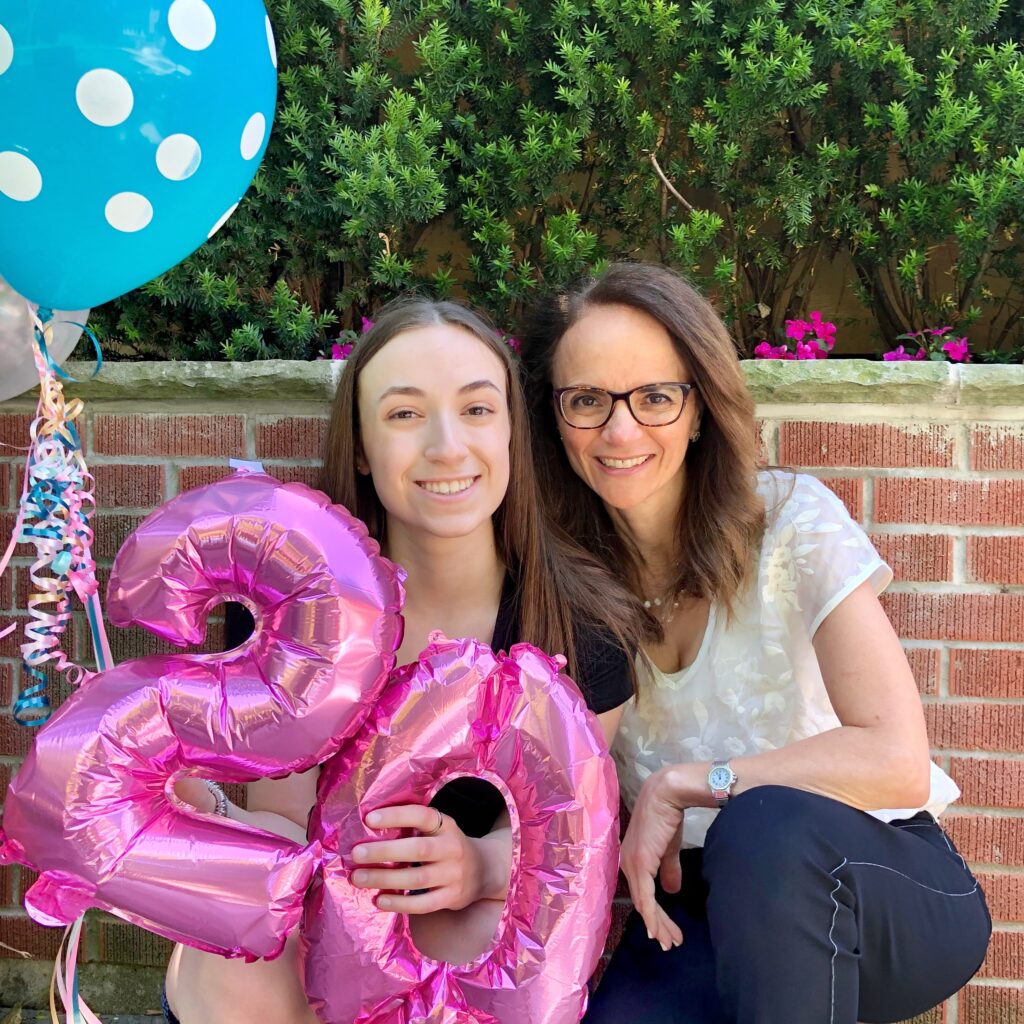 We were still in the 'shelter at home' phase when my daughter had her virtual graduation, so it was a nuclear family celebration. My daughter helped me make and decorate these dessert menu items, and we had a lot of fun decorating and catching up together.
Here are the Graduation Desserts we made:
Carrot Cake With Cream Cheese Frosting And A '2020' Cake Topper
Sugar Cookies In Graduation-Themed Shapes
Graduation Cap Cupcakes
Chocolate Chip Cookie Cake
The details:
Carrot Cake With Cream Cheese Frosting And A '2020' Cake Topper
Follow this link for the recipe for this carrot cake with cream cheese frosting. It's my go-to cake and I have made it hundreds of times. To make it special, I used pink chocolate melts and cream to make the drip for the cake, and I made a topper with the numbers '2020'. This topper made the cake!
To make this topper, I melted the pink chocolate melts in a double boiler and placed the melted chocolate in an icing tube. I traced the numbers on a piece of parchment paper and piped the outline and inside of the numbers with the melted chocolate. Cover with sprinkles and place in the fridge for ten minutes. Flip the hardened number over, add a baking stick, and 'glue' on with more icing. Very easy. I got the idea from Sugar & Sparrow and you can watch this quick video on how to do this by clicking here.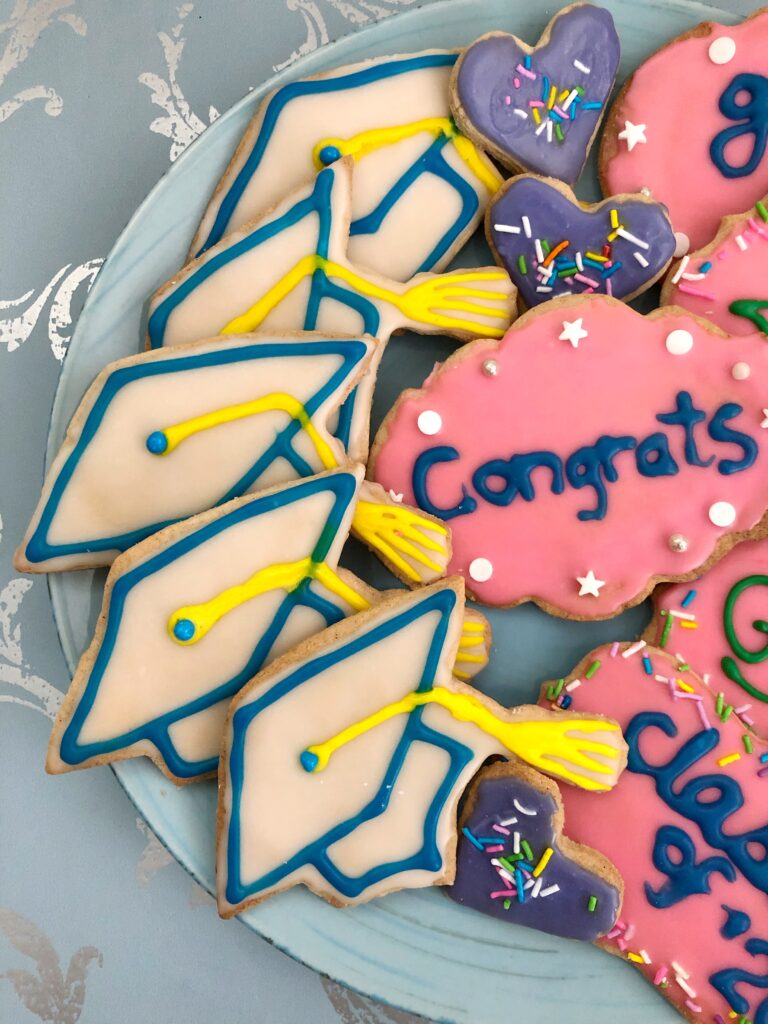 Sugar Cookies In Graduation-Themed Shapes
To make these graduation-themed sugar cookies, I followed this recipe that I've shared in the past. The recipe makes about 70 cookies, so make half if you want less. I went to the bulk food store to find cookie cutters shaped like a graduation cap, plaques, and the numbers '2' and '0'.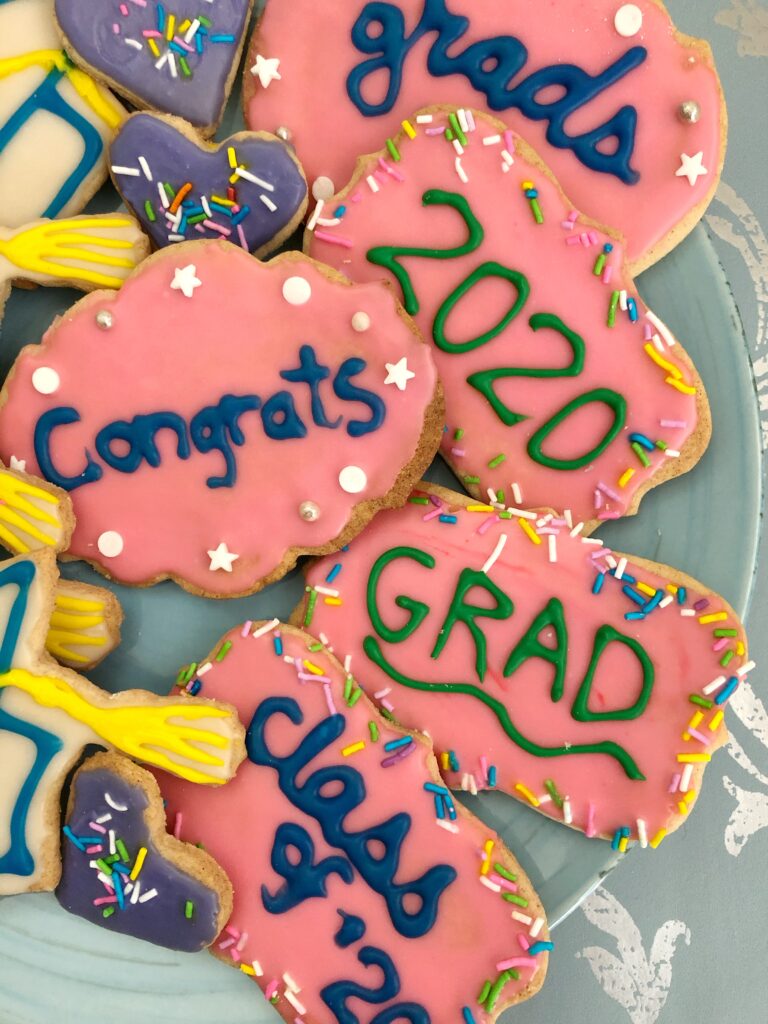 We also made some heart-shaped cookies as well as spring daisy flowers. We iced them with the icing the recipe calls for and accented them with store-bought icing and sprinkles.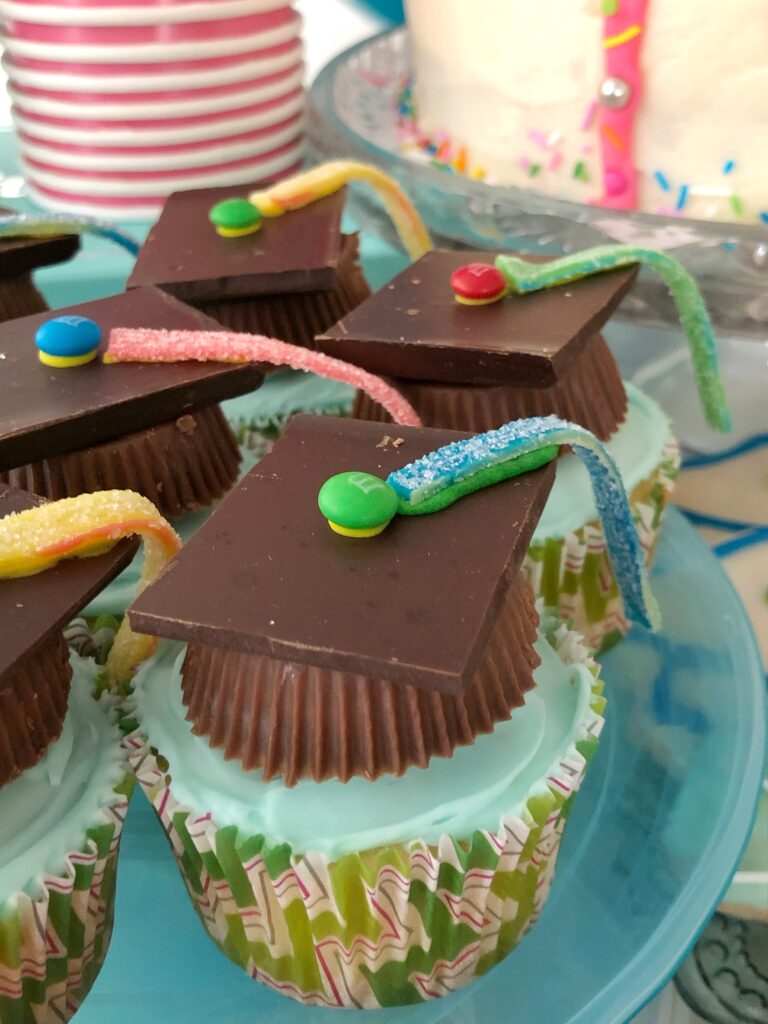 Graduation Cap Cupcakes
I cannot take credit for the idea for these cute graduation cap cupcakes! All you have to do is look on Instagram or Pinterest for inspiration. These are cupcakes made from a box and iced with store-bought icing that I colored blue to match our pink and blue theme.
To make the graduation 'caps', I used icing to glue a flat piece of chocolate on top of a Reese's peanut butter cup. For the tassel, I used icing to 'glue' on a colored mini M&M to the top of the hat and to glue on cut pieces of Sour Straps candy. You could also use thin licorice pieces.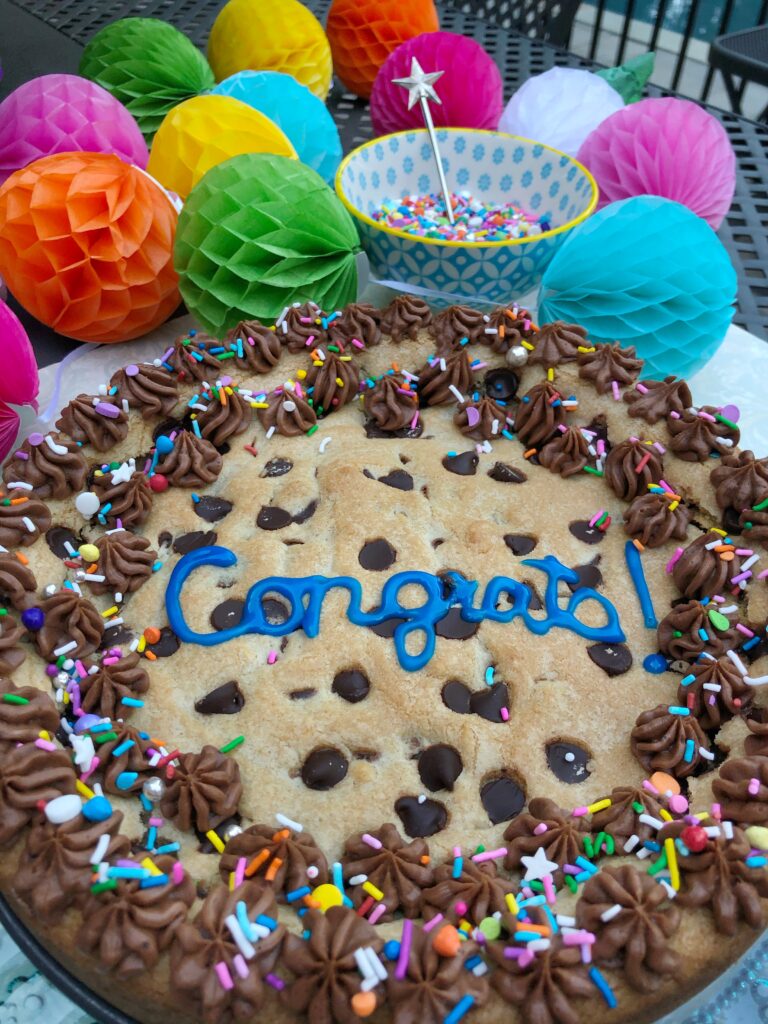 Chocolate Chip Cookie Cake
This chocolate chip cookie cake is really delicious and a serious show-stopper when it comes to gifting. It's the easiest of the desserts here, other than the cookies, to gift in a box and be an 'easy-to-carry' dessert. This cake is exactly like the Mrs Fields Cookie Cake. Check out the post I wrote on how to make and gift a chocolate chip cookie cake by clicking here.
For the icing, I also followed the recipe from Garnish & Glaze. I used sprinkles from Sweetapolita that you can order on amazon.com.
And, there you have it. Four easy graduation desserts to celebrate your grad! There is so much room for creativity here, and for time spent in the kitchen with your kids and family. I hope you are inspired to try these desserts for your next celebration!

Email This Post