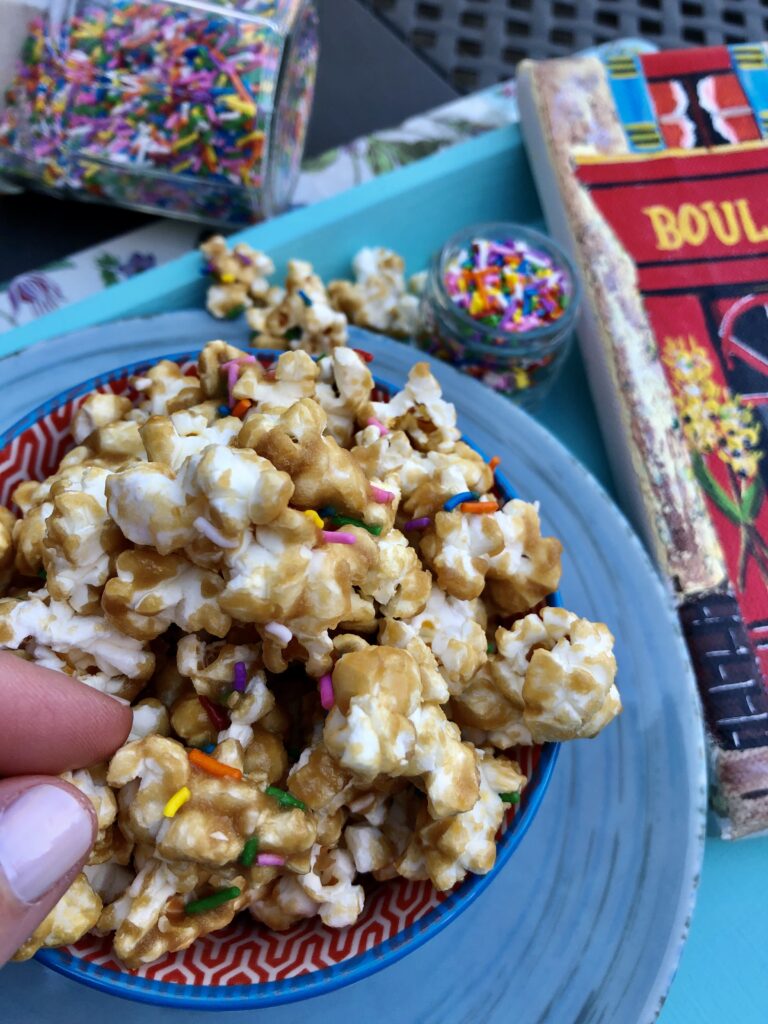 Caramel popcorn is my favorite way to eat popcorn and, thank goodness, it's very easy to make at home! As you know, I have a very sweet tooth, and this popcorn makes it to the top of the list for many reasons.
Caramel corn takes me right back to my childhood when one of my friend's moms used to make it and sell it out of their house. I would treat myself to it after school on many occasions. Of course, caramel corn also has a nostalgic place in my heart because it reminds me of street fairs and festivals.
To make this caramel corn, I have to admit that I cheat a little bit with the recipe: I use micro-waved popcorn. It's just easier and  you get to the end result quicker. Of course, it's healthier and more economical to make it with fresh popcorn that you make in a pot or in a popcorn maker or air popper. But, microwaved popcorn works just as well.
The secret to making this recipe is the baking soda. It makes the caramel sauce foam up and that's how it becomes easier to spread over more of the popcorn. It 'grows' in volume with the soda.
I'm kind of a plain Jane person with my caramel corn, adding sprinkles to it occasionally. You can add many other toppings like candy, pretzels, peanuts, chocolate chips, chocolate drizzle, etc. You decide!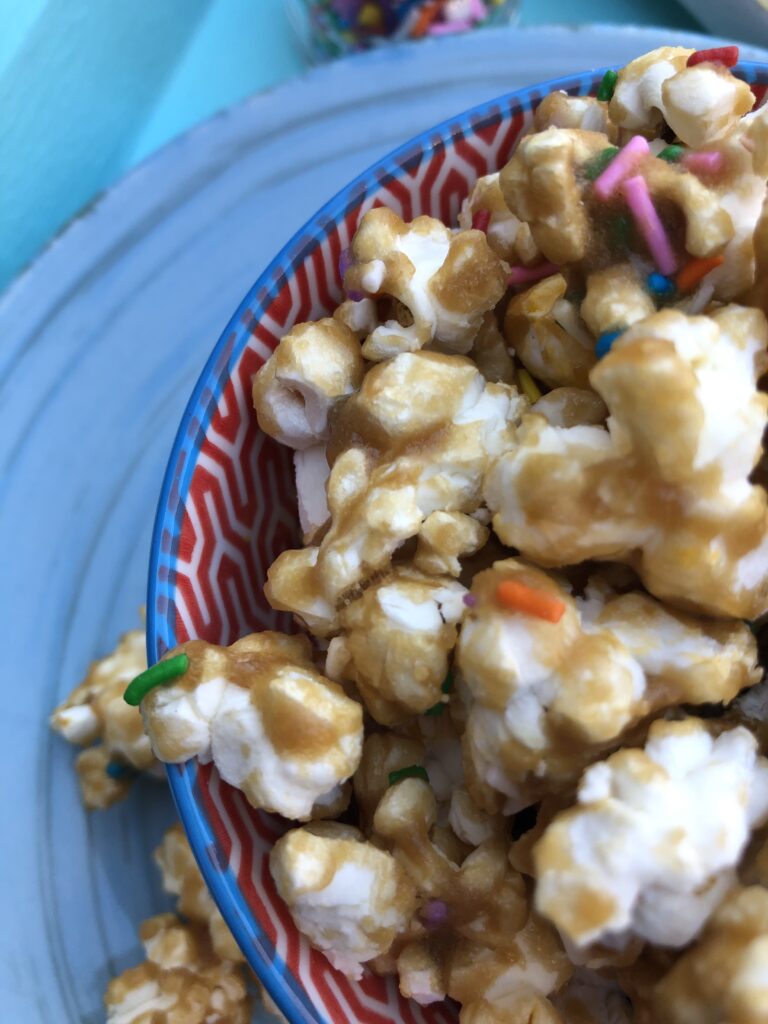 Here's how I made the Caramel Corn in these photos:
Caramel Corn
Ingredients:
8 cups of popped popcorn (or one 85g or 3 oz package of micro-wave popcorn)
1/4 c butter (salted or unsalted)
1/2 c dark brown sugar
2 T white corn syrup
1/4 tsp baking soda
1/2 tsp vanilla
2 T sprinkles
Method:
Prepare popcorn and place it in a large mixing bowl, leaving plenty of room to toss the popcorn with the caramel sauce. Make sure you remove any kernels.
In a medium saucepan, melt the butter over low to medium heat. Add the brown sugar and corn syrup and stir until everything is melted together and combined well. It will start to bubble slightly on the sides.
Add the soda and vanilla and keep stirring until the mixture foams up. Stir and let it cook for another 30 seconds.
Quickly spread the caramel over the popcorn and toss with a spoon until all the popcorn is coated.
Add the sprinkles after the popcorn is fully coated and toss again.
Notes:
To ensure you separate all the kernels out, I recommend you place the micro-wave popcorn in a bowl and give the bowl a few light tosses so that the kernels settle at the bottom. Use your hands to carefully lift out the popped corn, without any kernels, and place them in your large mixing bowl.
Do NOT leave the caramel on the stove while you go do other things. It will burn. And, once you add the vanilla and soda, the mixture may splatter from the vanilla, and it will foam from the soda. You cannot walk away!
Work quickly to spread the caramel over the big bowl of popcorn.
Do NOT use your hands to toss the caramel and popcorn together – the caramel mixture is super hot!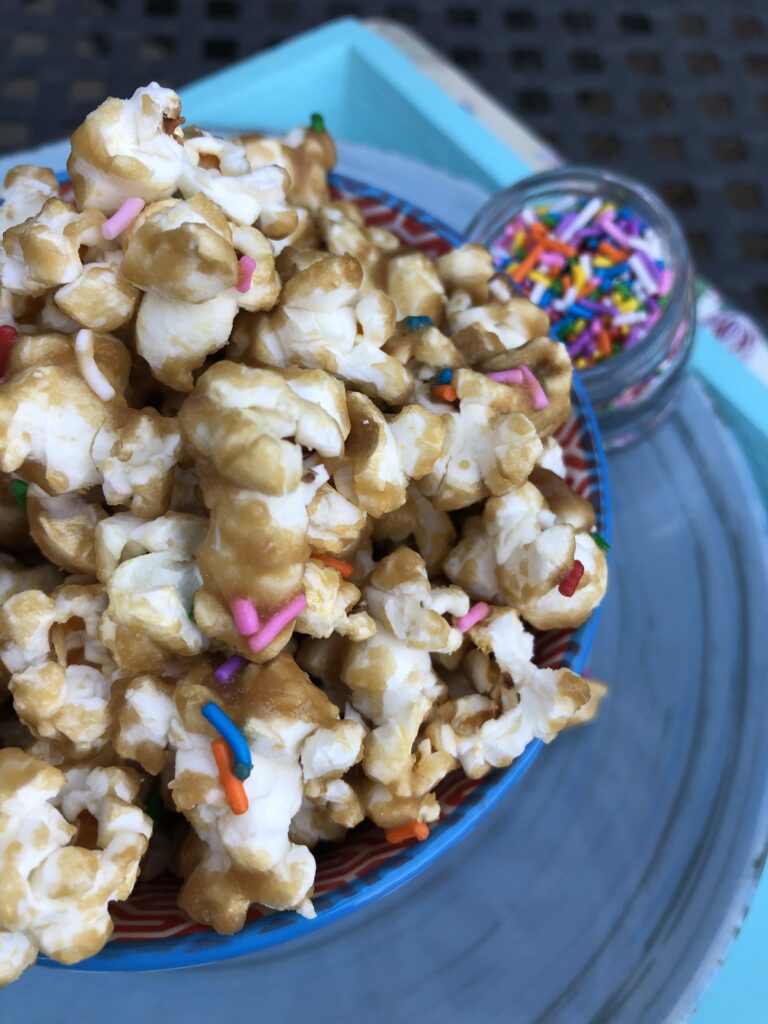 What have you added to your caramel corn? Comment below!
Enjoy!

Email This Post