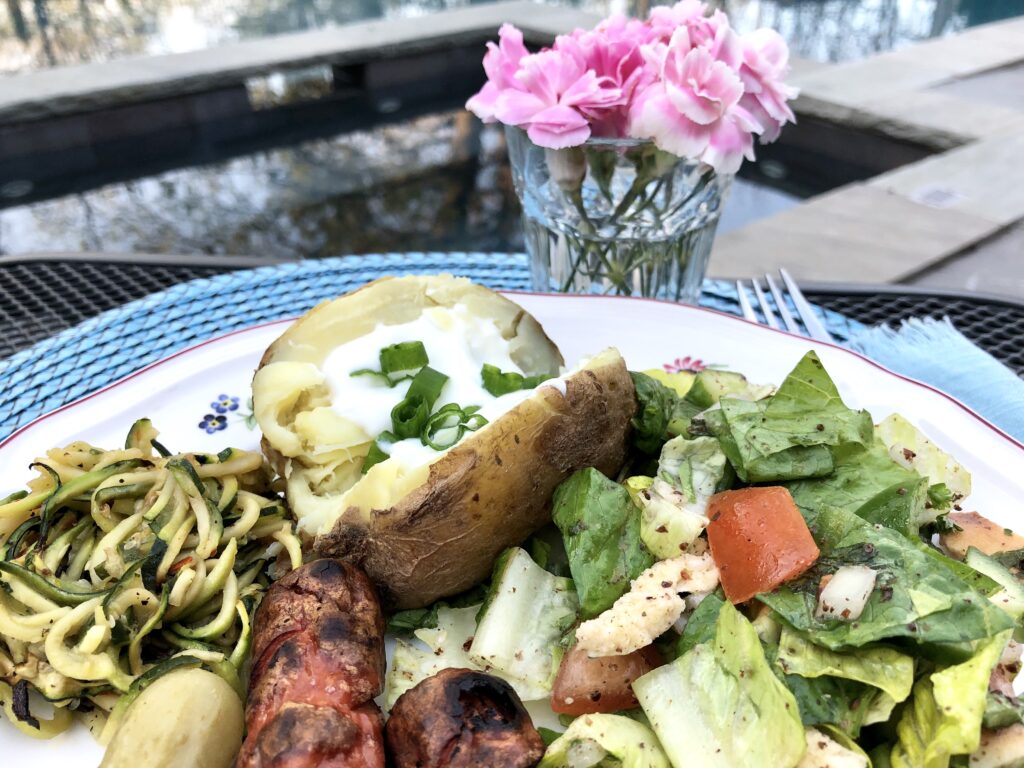 Fattoush Salad, a popular salad in the Middle East, is one of the tastiest and most requested salads in our house! As my kids have gotten older, their tastebuds have evolved and cooking for them is a pleasure.
Fattoush is an easy salad that is forgiving in both the quantity and variety of ingredients. If you went to ten people's homes, you'd find ten versions of this salad! There are so many ways to make fattoush. People refer to it as a peasant salad in that people used whatever leftover vegetables they had on hand to make this dish. I've even seen it made using only purslane, tomatoes, and cucumbers, which is very different from the recipe I'm sharing below.
With Ramadan entering its second week, this salad is a staple found at many Iftar meals. Iftar is the evening meal that breaks the fast for Muslims around the world. I thought it would be a good time to share the recipe my mom has taught me for making fattoush.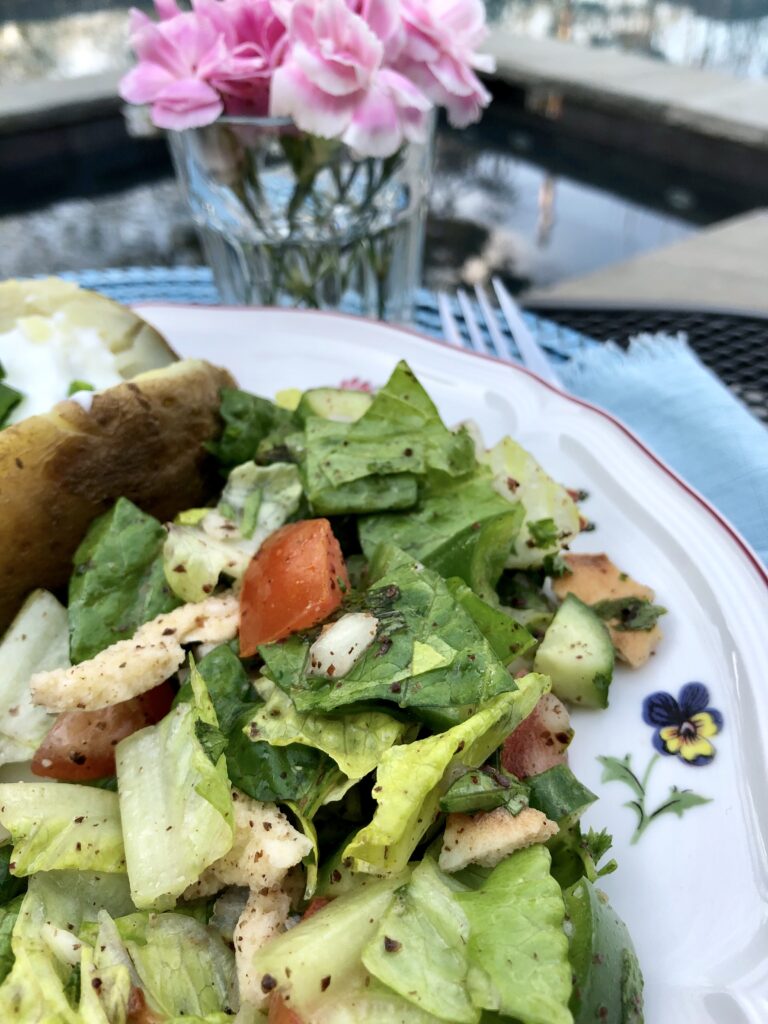 There are a few things that distinguish the typical fattoush salad from a green salad. The simple green salad has lettuce, tomatoes, and cucumbers. Fattoush adds onions, sumac, green peppers, mint, parsley, pita chips, and a dressing of oil and lemon with the option of adding pomegranate molasses. My mom doesn't use pomegranate molasses, but many restaurants use it for a tangy taste.
(A note about sumac: look for this tart, reddish spice in the spice section of ethnic grocery stores, or order it online. In the photo below, I used homemade sumac, made by my dad's cousin, and store-bought sumac. The redder sumac is store-bought and crushed using machines, hence the redder look.)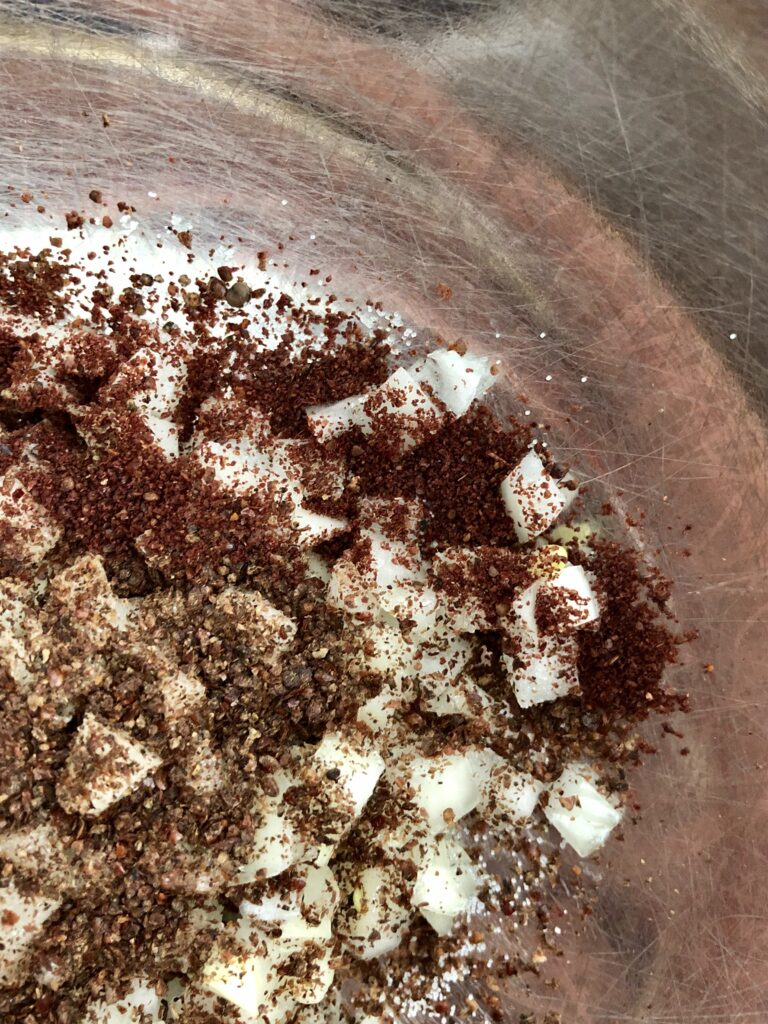 Here's how I make Fattoush Salad
Fattoush Salad
Ingredients for the Salad:
1 head romain lettuce, chopped
1 large ripe tomato, chopped
1-2 mini cucumbers, diced
1/2 green pepper, diced
1/4-1/2 cup coarsely chopped parsley
1/4-1/2 cup coarsely chopped mint
1 medium onion, diced
1/2 – 3/4 tsp salt
1 1/2 T sumac
1/2 of a large pita, toasted and broken into pieces
Ingredients for the Dressing:
1 1/2 T lemon juice
2 1/2 T olive oil
Method:
Place the chopped onions in the bottom of a large bowl. Add the salt on top of the onions, and then add the sumac
Place the lettuce and all of the other vegetables on top of the onions and let the salad sit for a bit before mixing or adding the dressing. This lets the onions sweat and absorb the salt and sumac, giving fattoush its distinctive taste
Add the pita just before you add the dressing
Toss and serve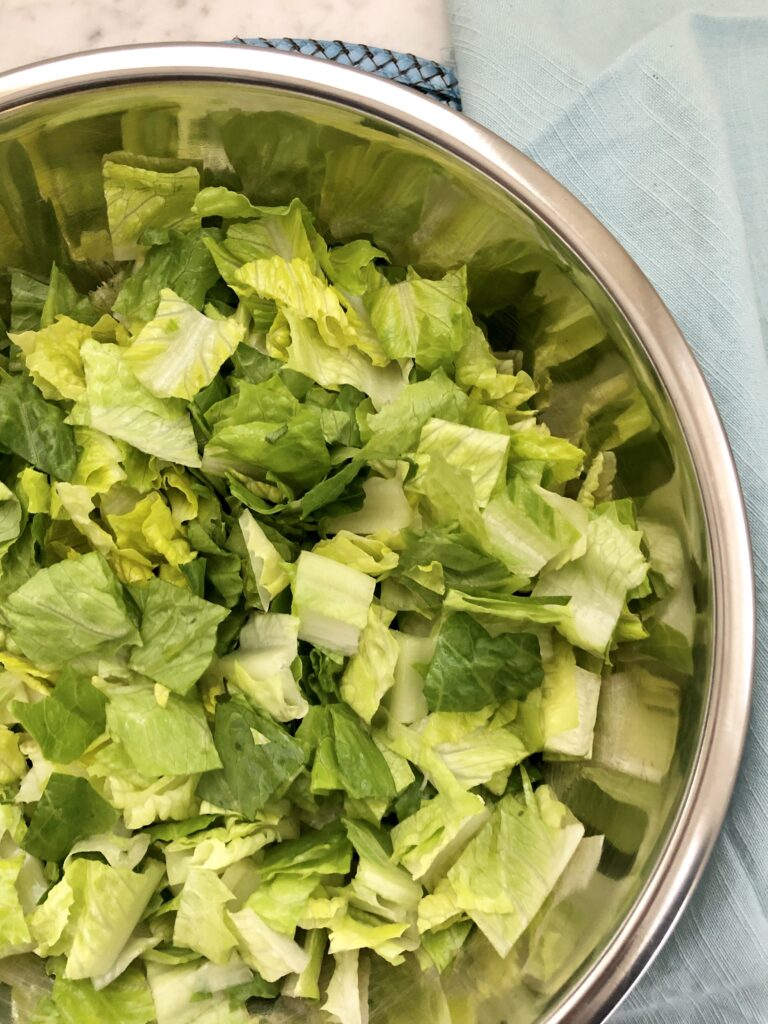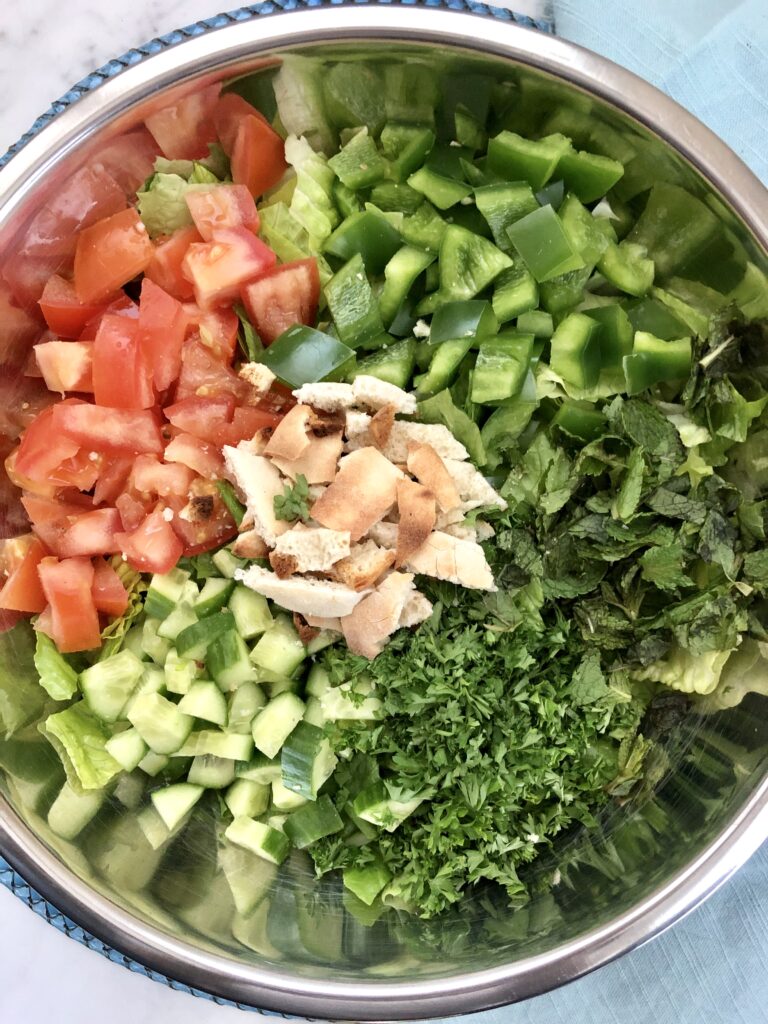 To toast the pita, place in the oven and watch it carefully so that it doesn't burn. Or, place in a toaster oven and toast it. Break up the pieces by hand. You can also fry pieces of pita in oil or brush pita pieces with oil and toast in the oven.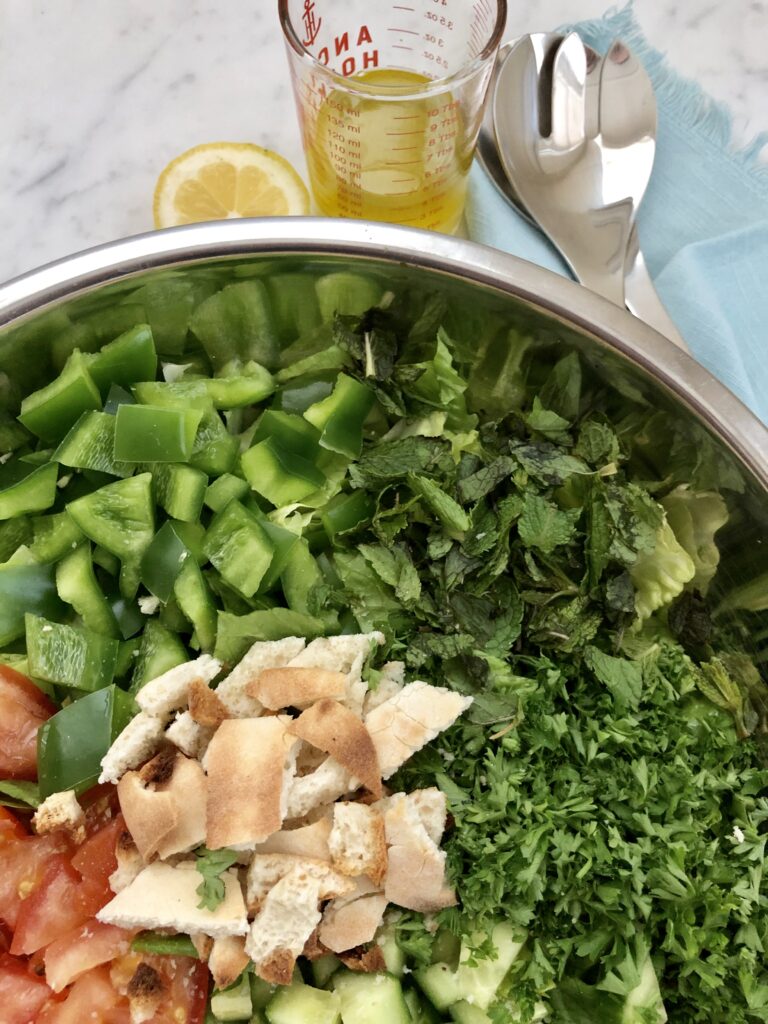 As I mentioned, fattoush is versatile and open to much interpretation. I've seen sliced radishes and green onions added and I've seen za'atar and dried mint sprinkled in. You can also throw in a handful of pomegranates. And I've seen garlic in the dressing. No matter how you make it, I'm sure you'll find it a delicious addition to your salad repertoire!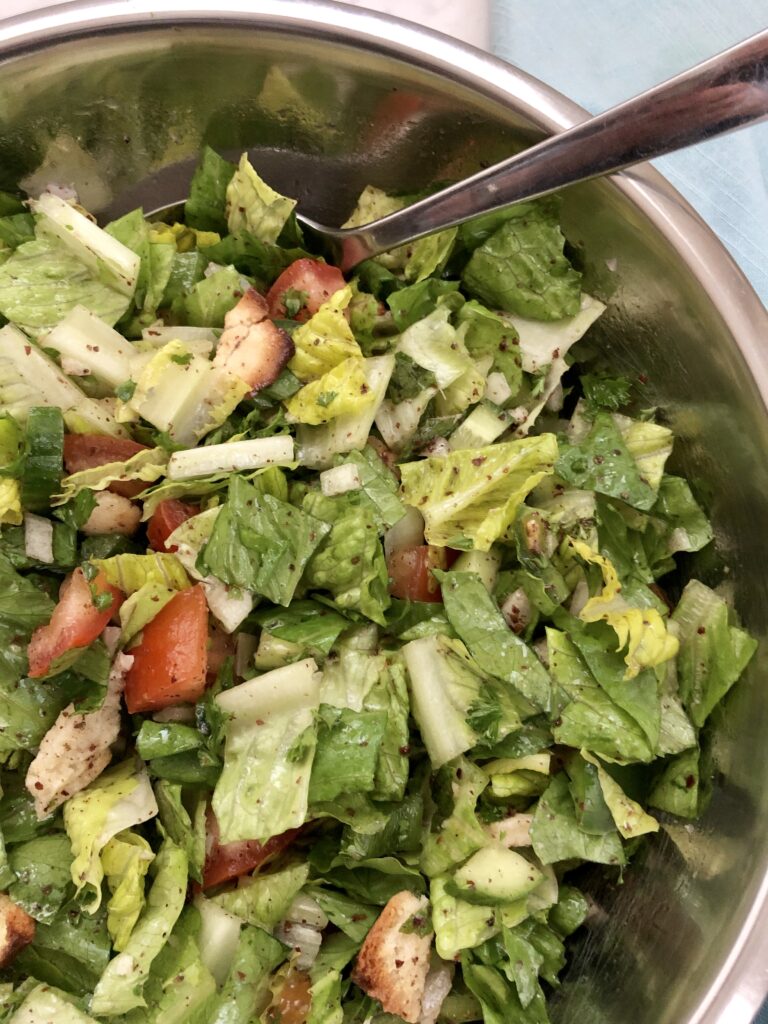 Have you made fattoush? What variations have you made?

Email This Post