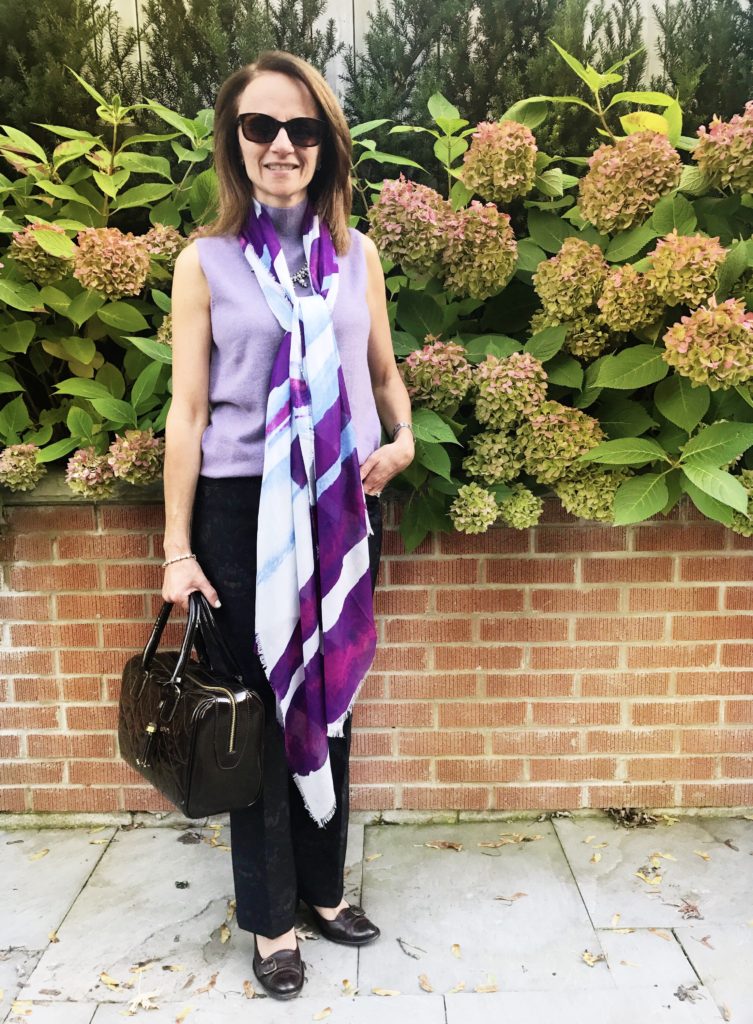 If you follow my blog, you know I like to write posts about pairing colors together (here and here). I love my navy colors, but I also like mixing it up from time to time. Enter wearing purple and brown together.
Brown is a good winter neutral. It's not as harsh as black or navy because it's got more of a warm tone to it. And, purple is an interesting color because it's made of blue and red. Actually, both brown (made by combining red, yellow, and black) and purple are considered composite colors. Purple and brown go very well together and you may see them combined on shirts, sweaters, and other items.
In this post, I've paired a light purple sweater with brown brocade floral pants. There are hints of purple in the pants, but not a lot. The lavender shade of the sweater brings out the similar tones in the pants. Interestingly, the complementary color to purple is yellow, not brown, but because brown has warm undertones in it, the combination works!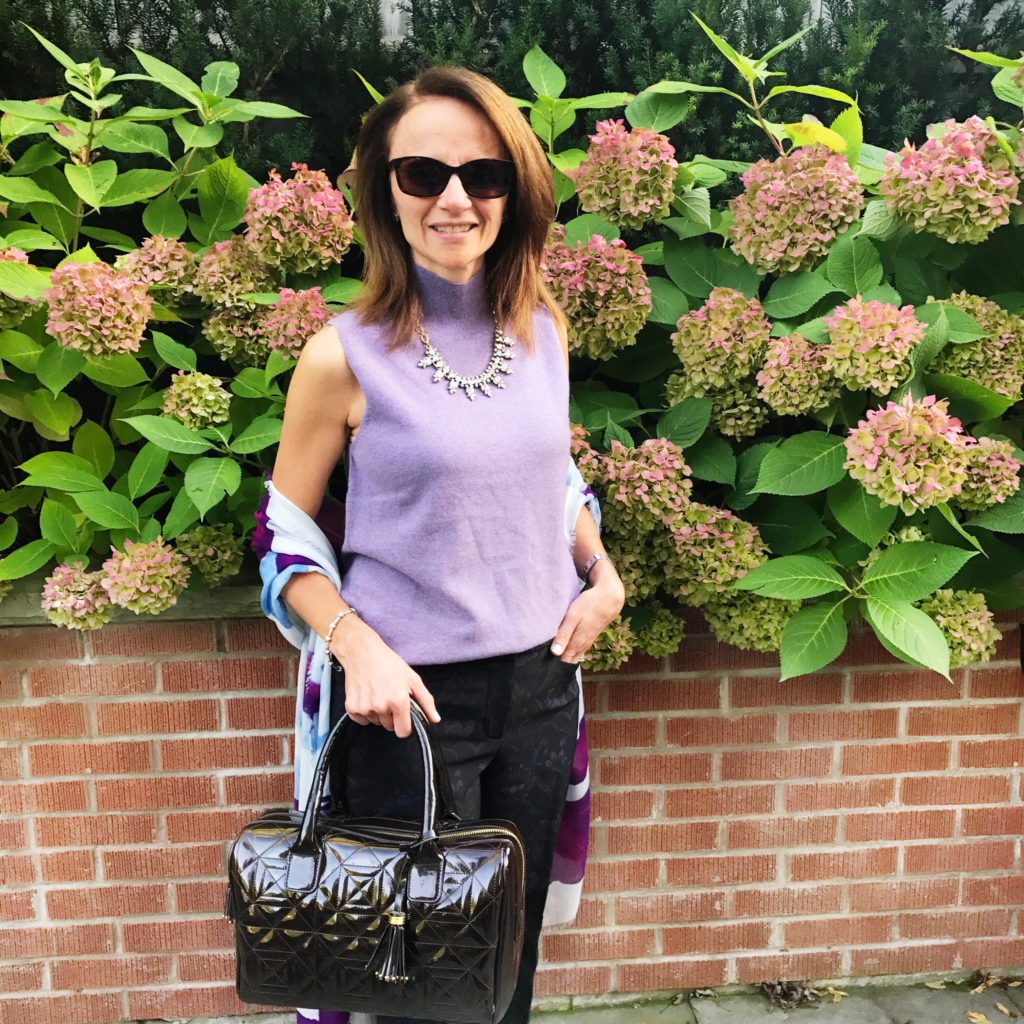 Although the sweater shown here is a tank top turtleneck, it's a cashmere blend and so it's quite warm and works for the fall/winter seasons. I added this beautiful silk/wool handpainted scarf by Kala Scarves to complete the outfit, and I think it really ties the top and pants together beautifully.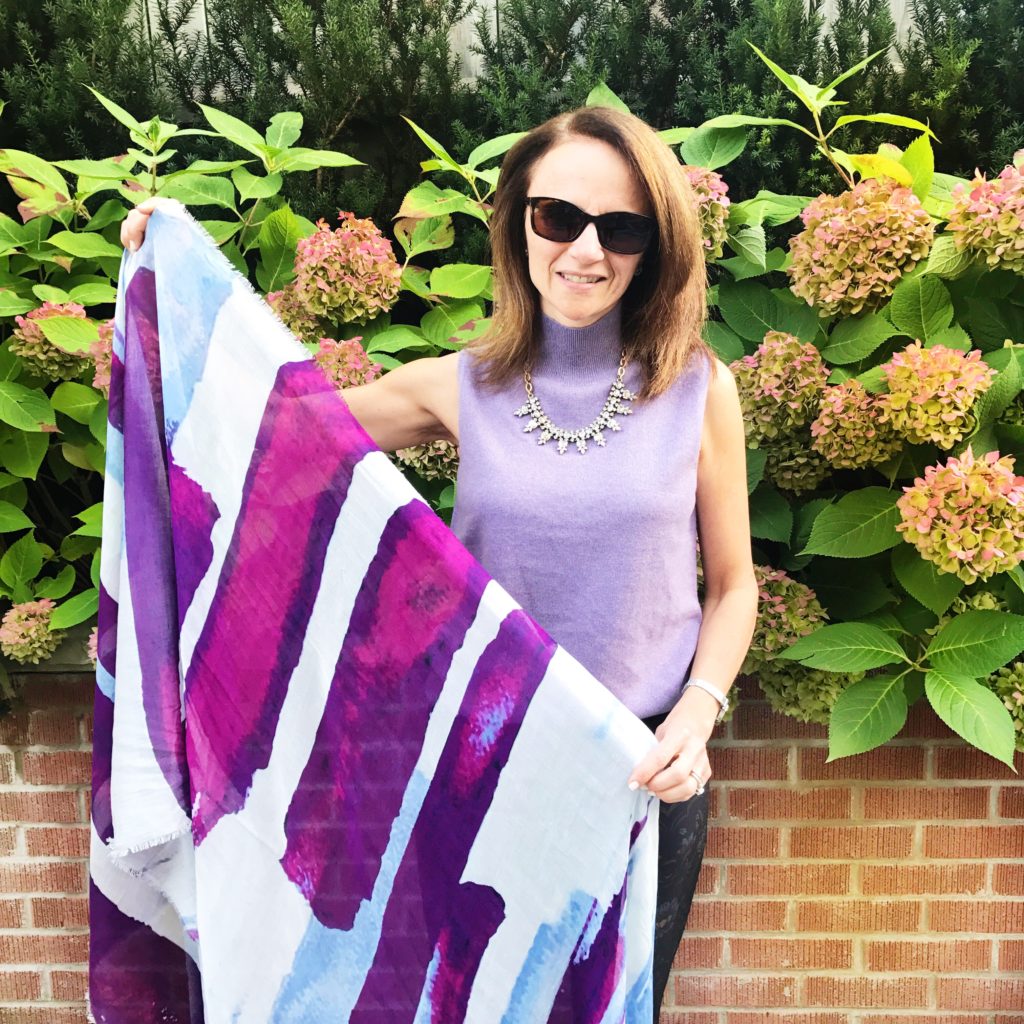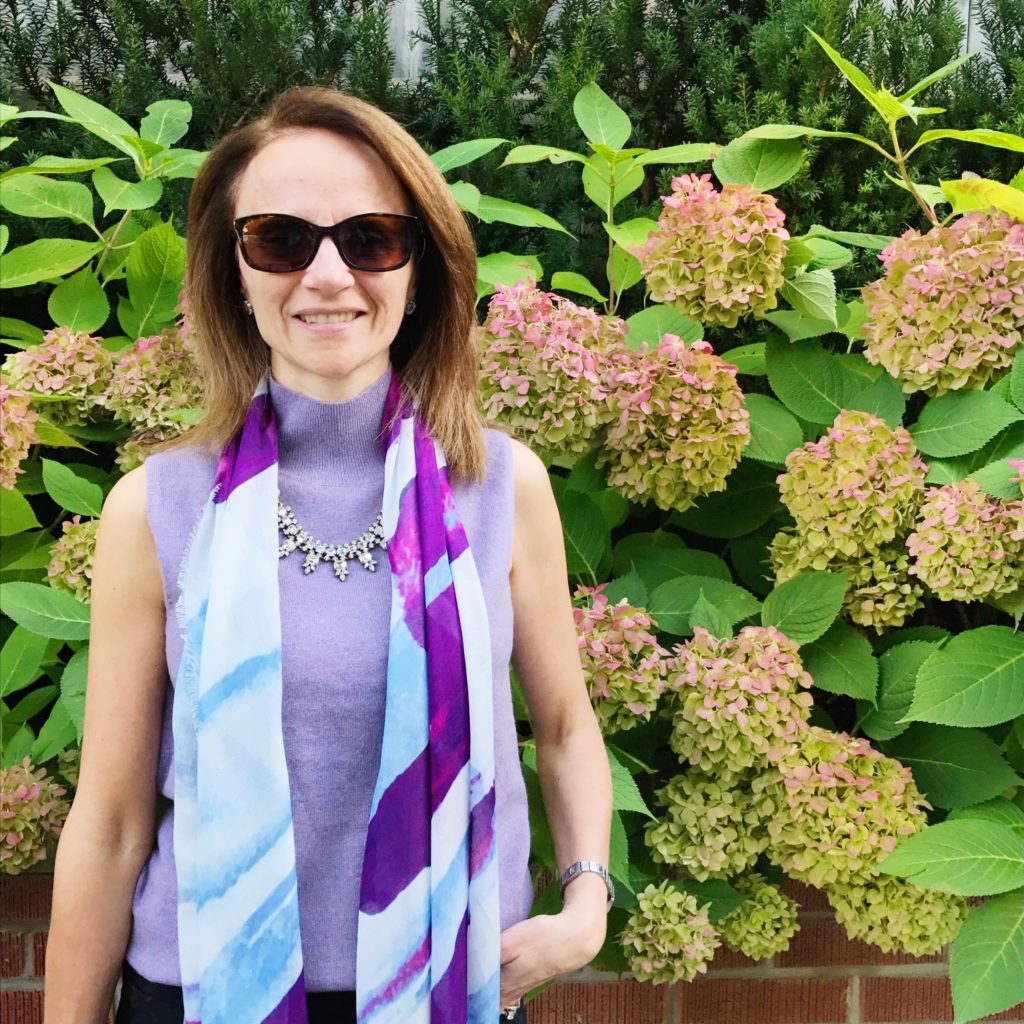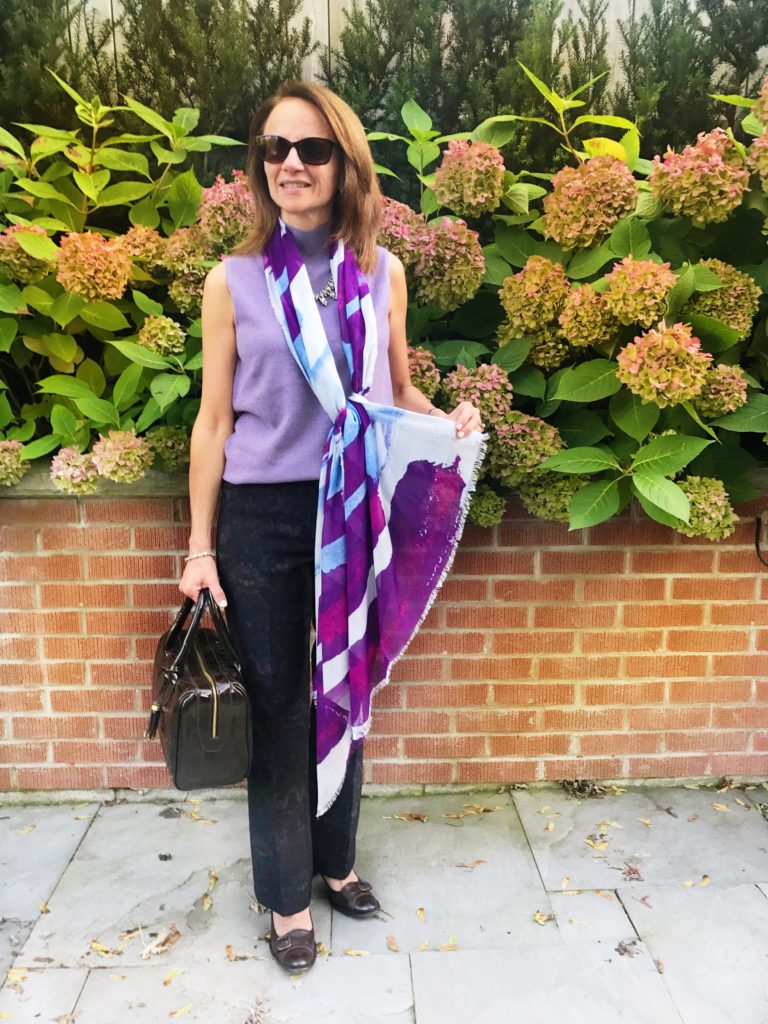 The scarf has a cream background with brown and purple swatches. You can wear the scarf around your neck or use it as a shawl if you get too cold. I love how versatile the scarf is given its size. It's a fine and delicate weave, as is typical with Kala Scarves, so it's not bulky. I've shown a few ways to tie the scarf and I've shown how well the scarf brings purple and brown together by showing close-ups of the scarf and outfit. You can see the range of purples (from wine to plum to lilac) in the scarf that help to tie brown and purple together.
As a color, purple has many connotations, including royalty, devotion, and wisdom. It's not a hugely popular color that you would see lots of people wearing on a regular basis, but when you see it, it's got a calming effect, especially in the lighter versions.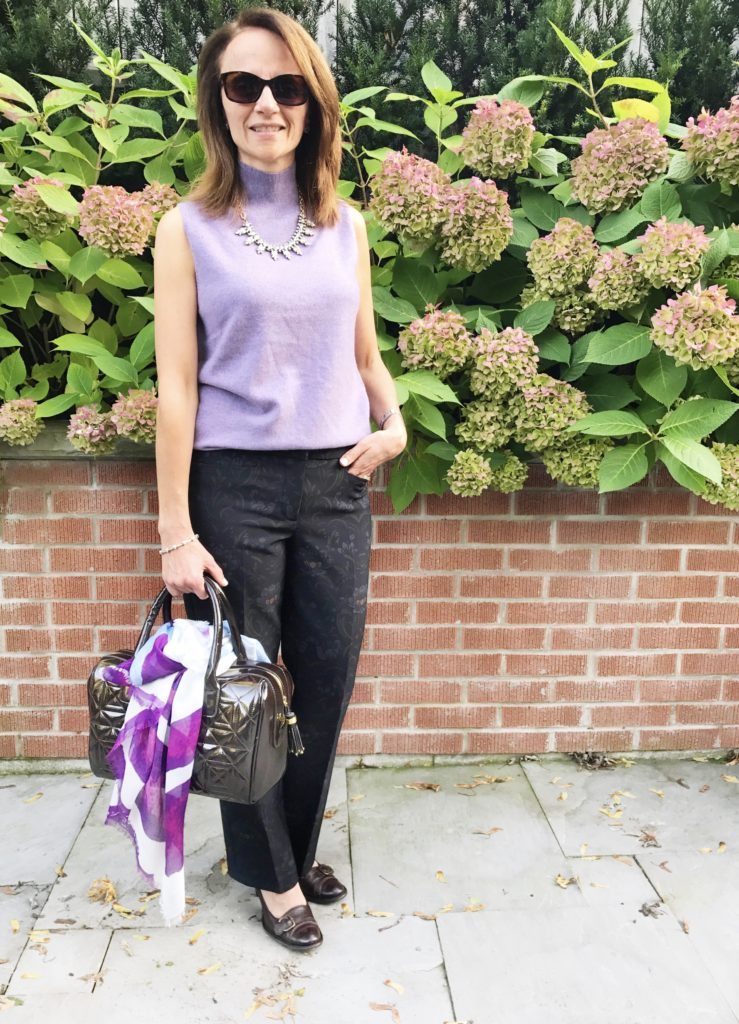 I love wearing purple and brown together because it's a nice change from my usual denim and navy and white!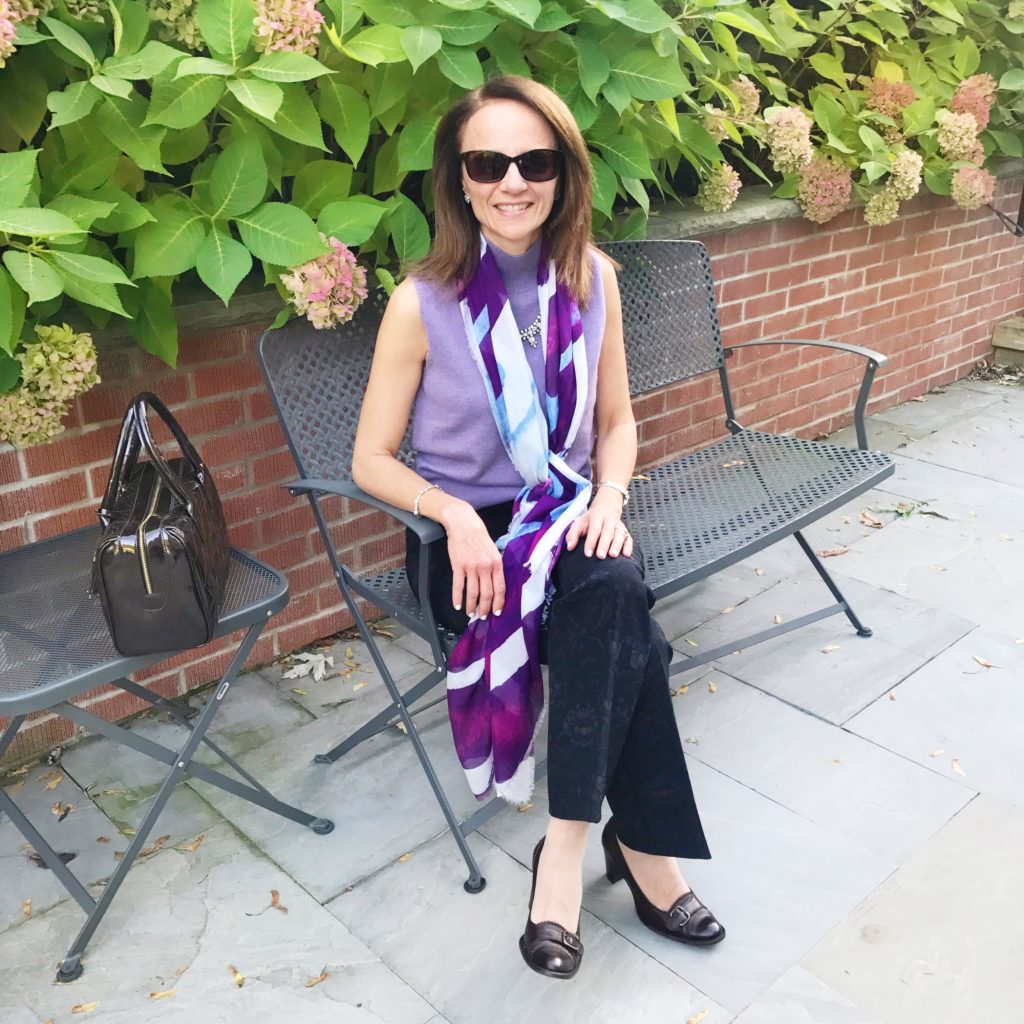 What do you think of wearing purples and browns together?
(Scarf: c/o Kala Scarves; Pants: Cambio; Sweater: Repeat Cashmere; Shoes: Parlanti)

Email This Post