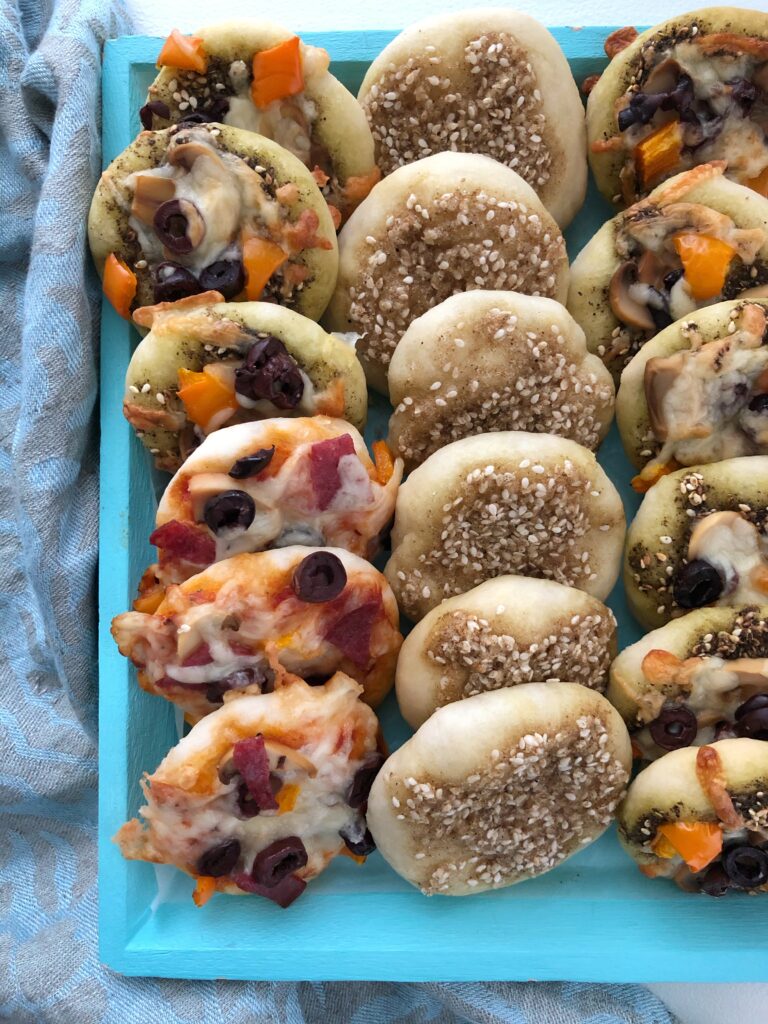 Are you a fan of homemade manakeesh and pizza? Are you picky about your toppings? Would you like to make your own mini manakeesh and pizzas at home?
Enter these mini pizzas, a recipe from my friend's mom, Aunty Basima. She is one amazing cook and, as kids and young adults growing up in Saudi Arabia, we all loved being invited over for any meal she created. Aunty Basima is an expert in Middle Eastern food, especially Palestinian food. She ran a successful catering business for many years, and you had to book her way ahead of time to avoid disappointment.
When we visited my friend in LA a few years ago, she made her mom's manakeesh recipe for us as a snack. They were soft, doughy, light, and delicious. So, I got her mom's recipe, and now I'm sharing it. I've made these pizza and manakeesh combinations at least 30 times since, and they're a hit every time.
BTW, manakeesh is the plural of the word manoushe, a Lebanese grab and go snack that you can find in many bakeries around Lebanon. Piping hot is how you want to eat them. They're like a thin crust pizza, topped with zaatar, which is an herb mix of dried, crushed thyme, sesame seeds, and sumac. You add oil and spread the mixture on the dough.  Then you top it with labneh, tomatoes, olives, mint. Yummm.
There are many reasons we love mini pizzas and manakeesh at our house. For one, everyone makes their own pizza and adds their own toppings; no complaints about what to include/exclude. Secondly, this recipe makes anywhere from 4-5 dozen pizzas. Thirdly, they freeze really well and make for great snacks, appetizers, and lunches.
I haven't tried making this recipe with gluten-free ingredients or without dairy, but I'm sure you can experiment and try.